The Country Girl **** (1954, Bing Crosby, Grace Kelly, William Holden) – Classic Movie Review 3982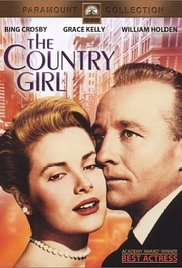 Writer-director George Seaton's double Oscar-winning 1954 drama stars singer Bing Crosby, who greatly impresses in a fine, acclaimed dramatic performance as Frank Elgin, a has-been, hard-drinking singer/actor who stages a comeback in a play with the support of producer-director Bernie Dodd (William Holden). After hiring Elgin, Dodd starts a stormy relationship with his wife, the cause of his problems, he thinks.
But it was Grace Kelly who won both the Oscar and Golden Globe for Best Actress as Elgin's dowdy (!) wife Georgie, who comes to life with her husband's success. Though Kelly is good, it is mainly an undeserved win, largely reflecting her huge popularity at the time. She beat favourite Judy Garland in A Star Is Born (1954) by just six votes.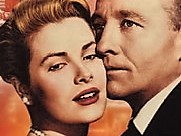 Clifford Odets's play possibly may work well on stage, but here it seems a chilly, gloomy, alienating, audience-resistant piece, so the assured performances are the main attraction. John F Warren films in black and white, when Kelly seems to cry out for colour. It is written for the screen by director Seaton, who took a second Oscar for the 1955 Academy Awards Best Screenplay. There were five other nominations, including Best Picture, Best Actor (Crosby), Best Director, Best Cinematography and Best Art Direction-Set Decoration.
Another attraction is the Victor Young score, as well as Crosby singing four Ira Gershwin (music) – Harold Arlen (lyrics) songs – Dissertation on the State of Bliss (Love and Learn Blues), The Pitchman / It's Mine, It's Yours, The Land Around Us and The Search Is Through. Victor Young is seen as the conductor when Crosby sings The Search is Through in the scene was shot inside the Paramount scoring stage.
Also in the cast are Anthony Ross, Gene Reynolds, Jacqueline Fontaine, Eddie Ryder, John W Reynolds, Bob Alden, Les Clark, Hal K Dawson, Howard Joslin, Jack Kenney, Ida Moore, Robert Kent, Charles Tannen, Neva Gilbert, Max Wagner and Richard Keene.
The original Broadway production opened at the Lyceum Theater on 10 November 1950 and ran for 236 performances. Uta Hagen won the 1951 Tony Award as Georgie Elgin.
© Derek Winnert 2016 Classic Movie Review 3982
Check out more reviews on http://derekwinnert.com