The Couch Trip *** (1988, Dan Aykroyd, Charles Grodin, Walter Matthau) – Classic Movie Review 4182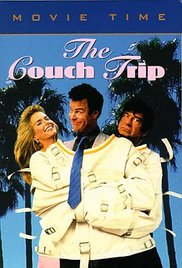 Director Michael Ritchie's lively and funny 1988 comedy is packed full of amusing lines and scenes in the well-honed screenplay by Steven Kampmann, Will Porter and Sean Stein, based on the novel by Ken Kolb.
Dan Aykroyd stars as crazy delinquent John W Burns Jr, who escapes from an institution by pretending to be his own psychiatrist Dr Lawrence Baird (David Clennon) and arrives in Beverly Hills where he passes himself off as a radio phone-in therapist. His tact-free words of wisdom soon send the listening figures shooting up to the rage of the show's dumped regular expert Dr George Maitlin (Charles Grodin), who is also suffering a breakdown – when is a character played by Grodin not? Then Maitlin meets the real Baird at a congress in London.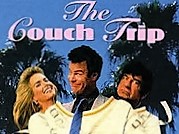 The funny script and the likeable performances pile up the laughs, though the attempt to say something about psychiatry and the world's insanity is understandably quickly abandoned in the search for laughs. It is Aykroyd's film, showcasing his best and quietest playing for some time. Walter Matthau has what amounts to an extended star cameo as a fake priest Donald Becker in his third of three movies with Ritchie, and Chevy Chase also appears too as Condom Father.
Also in the cast are Donna Dixon, Richard Romanus, Arye Gross, Mary Gross (no relation) and David Wohl.
© Derek Winnert 2016 Classic Movie Review 4182
Check out more reviews on http://derekwinnert