The Comfort of Strangers **** (1990, Christopher Walken, Rupert Everett, Natasha Richardson, Helen Mirren) – Classic Movie Review 11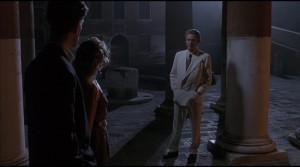 'My father was a very big man. All his life he wore a black moustache and when it turned grey he used a small brush, such as ladies use for their eyes – mascara!'
You can always rely on director Paul Schrader for a provocative film. Here he delivers a supremely unsettling, nasty-toned and undeniably smart and intelligent thriller in which handsome bickering English couple Mary and Colin (Natasha Richardson and Rupert Everett) decide to take a second honeymoon in Italy to resolve their differences and unfortunately get mixed up with death in Venice. Mary is a divorcee with two children back home; Colin is sexily attractive. They are passionate and intimate, but troubled.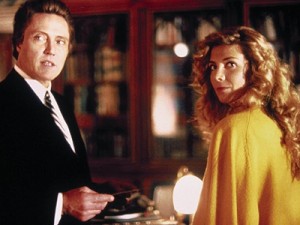 Getting lost by night looking for a restaurant, they are rescued by an exceptionally polite but forceful Italian tempter and wine bar owner called Robert (a treasureably and memorably crazed Christopher Walken), who takes them to his café, where he offers them drinks and stories about his family. Next day, they are again greeted by Walken, who this time invites them back to his palazzo apartment, where they are befriended by his tragic-looking partner, Caroline (Helen Mirren).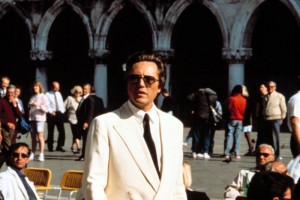 Schrader brings an abundance of his usual wit and style to a project that clearly involves and excites him, working with a suitably baroque and bizarre Harold Pinter script based on Ian McEwan's uniquely disturbing novel, and set against a startlingly photographed Venice that looks equally stunning and eerie in cinematographer Dante Spinotti's marvellous images. The setting remains elusively unnamed in McEwan's novel.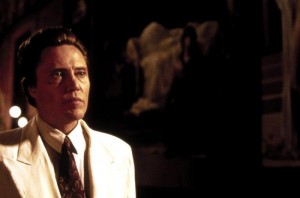 Walken gives the standout performance, an exuberant tour-de-force that stops just short of caricature with his excellently observed Italian accent and manners. But all the star performances are spot on, surprisingly understated and convincing, especially given the artificial, florid, decadent goings-on.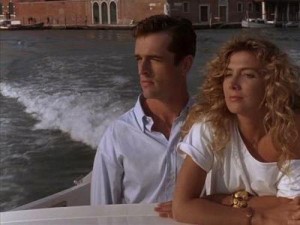 The film remains true to the book, with Pinter's taut, expert screenplay following it faithfully and closely, retaining its dialogue. It must have been an easy gig as the book's quite short and already cinematic, reading almost like a screenplay. But he makes a grand job of it anyway. He told me with obvious pleasure that this was the first time he'd ever been paid £1million for any piece of his film writing.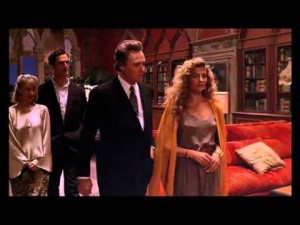 Executive producer Mario Cotone plays the small role of the detective.
In March 2009, Natasha Richardson died suddenly, after falling and receiving a head injury while skiing in Mont Tremblant, Quebec, Canada. She was only 45.
Pinter died in December 2008, aged 78, of cancer.
(C) Derek Winnert 2013 Classic Film Review 11 derekwinnert.com