The Colossus of New York ** (1958, John Baragrey, Mala Powers, Otto Kruger) – Classic Movie Review 6107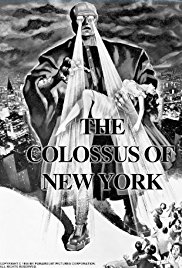 In the crazy story by Willis Goldbeck, a genius scientist called Dr Jeremy 'Jerry' Spensser (Ross Martin) is killed in an accident and his brilliant brain surgeon father Dr William Spensser (Otto Kruger) places his life-supported brain in a huge, eyeless android/ cyborg body.
Then, transformed by the experimental procedure, the robot body develops strange powers and changes from Jeremy's previously kindly disposition. Just on cue, it loses its human attributes and promptly goes haywire and turns deadly.
The scientist's wife Anne (Mala Powers) is bemused but William's other son Henry (John Baragrey) is able to communicate with the big android.
If you look hard enough, you can see the germs of some intelligent ideas hiding somewhere in director Eugène Lourié's colossally silly 1958 Paramount sci-fi thriller. But it turns into a regulation Fifties monster movie, with 'an indestructible creature whose eyes rain death and destruction, towering above the skyline'.
And alas now it just seems a ridiculous movie that can be found funny if you are in the mood to laugh at the silly dialogue and plotlines and the daft monster and cheap tricks in the special photographic effects by John P Fulton. It has one classy element, though. Van Cleave's unusual minimalist score for piano only adds the right notes of haunting menace and atmospheric mood missing elsewhere in the movie.
It is written by Thelma Schnee, shot in black and white by John F Warren and produced by William Alland, with art direction by John B Goodman and Hal Pereira.
It was released by Paramount to most US cinemas in a double bill with The Space Children.
Thelma Schne is the maiden name of Thelma Moss, who went on to become a famous parapsychologist.
© Derek Winnert 2017 Classic Movie Review 6107
Check out more reviews on http://derekwinnert.com