The Clairvoyant ***½ (1935, Claude Rains, Fay Wray, Jane Baxter, Mary Clare, Athole Stewart, Ben Field, Felix Aylmer) – Classic Movie Review 4267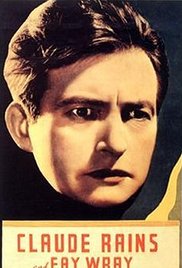 Director Maurice Elvey's excellent little 1935 British suspense thriller stars Claude Rains as the apparently phoney psychic and mind reader Maximus who finds that he is really able to predict a train crash.
The fake music-hall clairvoyant Maximus's prediction comes to pass when he is unable to stop the train from crashing. Maximus shouts at other passengers to alight, but they refuse to, and the train heads off over a cliff. Despite his precognition, he is then accused of causing the disaster he predicted. He dallies with publisher's daughter Christine (Jane Baxter), making his wife Rene (Fay Wray) jealous.
Maximus realises he has his predictions in the presence of Christine, and later, trying out his clairvoyant powers, chooses a horse-race winner.
Rains, by this time of 1935 had recently become a star in Hollywood thanks to The Invisible Man (1933), returned to Britain to make it, and it is a pleasure to watch his skill in lifting the familiar though always oddly compelling material. Writers Charles Bennett, Bryan Edgar Wallace and Robert Edmunds adapt the novel by Ernst Lohar.
Also in the cast are Mary Clare, Athole Stewart, Ben Field, Felix Aylmer, Donald Calthrop, Jack Raine, Margaret Davidge and C Denier Warren.
Canadian-born Fay Wray had also recently become a star with King Kong (1933).
Night Has a Thousand Eyes (1948), with Edward G Robinson, Gail Russell and John Lund, tells a similar story.
© Derek Winnert 2016 Classic Movie Review 4267
Check out more reviews on http://derekwinnert