The City of the Dead [Horror Hotel] *** (1960, Patricia Jessel, Betta St John, Christopher Lee, Dennis Lotis, Valentine Dyall, Venetia Stevenson, Tom Naylor) – Classic Movie Review 4288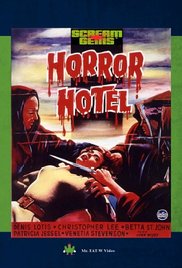 Venetia Stevenson plays Nan Barlow, a coed girl studying the occult who disappears at the spooky Raven's Inn in Whitewood, Massachusetts, in director John Moxey's effective terror tale 1960 British horror movie that plays like a witchcraft version of Psycho.
Dennis Lotis and Tom Naylor play her brother Richard and her boyfriend Bill who arrive on the scene to look for her. Christopher Lee also stars as Stevenson's spooky history professor Alan Driscoll, predictably up to no good, while Betta St John plays Patricia Russell, and Patricia Jessel looks remarkably good for a witch burned at the stake 270 years previously.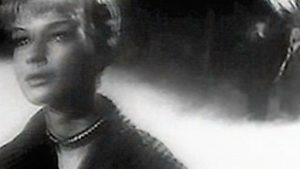 The tension steps up as the film goes along, there is a fine eerie atmosphere throughout and it all builds to an exciting climax.
The screenplay, written by George Baxt who also scripted the interesting Circus of Horrors (1960), is based on a story by producer Subotsky.
Also in the cast are Valentine Dyall, Norman MacOwan, Fred Johnson and Ann Beach.
Filmed at Nettlefold Studios, Walton-on-Thames, Surrey, England, it was belatedly released in the US in September 1962 as Horror Hotel.
© Derek Winnert 2015 Classic Movie Review 4288
Check out more reviews on http://derekwinnert.com