The Circus Queen Murder *** (1933, Adolphe Menjou, Greta Nissen, Ruthelma Stevens, Dwight Frye, Donald Cook, Harry Holman) – Classic Movie Review 4292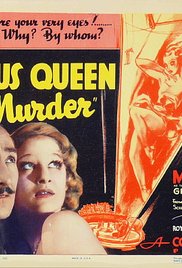 'MURDER WITH THOUSANDS OF EYE WITNESSES…but NO ONE COULD TELL HOW OR WHY SHE MET HER DEATH!'
Adolphe Menjou stars as police commissioner Thatcher Colt, who is on holiday in upstate New York with his assistant Kelly (Ruthelma Stevens) as this Columbia Pictures' short, cheap but smooth and effective 1933 circus-set mystery begins.
On vacation they may be, but, in time-honoured fashion, the star duo are soon investigating a murder. Can they find out who shot the poisoned arrow that toppled circus queen Josie La Tour (Greta Nissen) off her trapeze?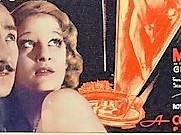 In a tense, pacy little movie, Menjou's performance as the suave, lip-reading Thatcher Colt and Roy William Neill's direction are commendably polished and quite stylish, with smart cinematography  by Joseph H August too.
Jo Swerling's screenplay is based on the novel by Anthony Abbott (aka Foulton Oursler).
Also in the cast are Dwight Frye, Donald Cook, Harry Holman, George Rosener, Eddy Chandler, Clay Clement, Adolph Milar, Frank Mills and Lee Phelps.
This mystery is the second film in Menjou's two-film series, following The Night Club Lady (1932). It is available to be seen on Turner Classic Movies.
© Derek Winnert 2016 Classic Movie Review 4292
Check out more reviews on http://derekwinnert.com