The Childhood of a Leader ***½ (2015, Robert Pattinson, Stacy Martin, Liam Cunningham, Bérénice Bejo, Tom Sweet) – Movie Review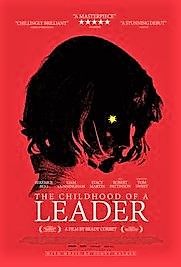 Co-writer/ director Brady Corbet is all grown up now at the age of 27, and astonishes us with all the imagination and style behind his chilling fable about the rise of fascism in the 20th century.
The film wants to lecture us about the roots of fascism, and movie lectures are always uncomfortable, borderline annoying, but that's OK here as it is clever and has something intelligent and informative to say about a subject that isn't talked about very much any more. Writing the screenplay with Mona Fastvold, Corbet has been digging into his history and biography books, but has digested them thoroughly and come up with something new and unique.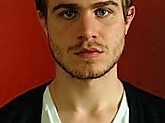 The Childhood of a Leader tells the story of Prescott (Tom Sweet), an American boy living in France in 1918, whose father is working for the US government on drawing up the Treaty of Versailles to end the First World War. What the boy sees helps to mould his beliefs and give birth to a terrifying ego (I know that because the ad line is 'Witness the birth of a terrifying ego').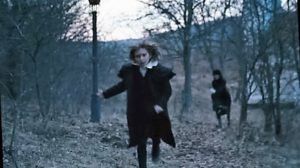 Inspired by the early childhoods of the last century's great dictators, it is a beautifully filmed, strikingly shot (by cinematographer Lol Crawley), eerie and ominous portrait of emerging evil, as personified by Robert Pattinson as Charles the Leader.
This is a film of rare intelligence and ambition, and if it falls crashing to the ground in its frenzied and muddled last quarter, that's a real shame because the first hour and a half are extraordinarily vibrant and powerful, a real achievement. There's a fascinating, quite remarkable, but far too dominant score by Scott Walker, taking no prisoners.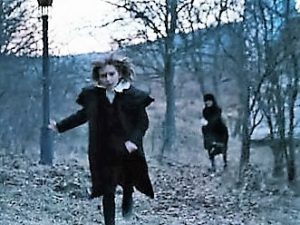 In three outstanding performances, Liam Cunningham and Bérénice Bejo are excellent in powerfully grim performances as the boy's unpleasant parents, Stacy Martin is appealing as his sympathetic teacher. Despite his surname, Tom Sweet successfully accesses the devil boy in The Omen. There's not really that much for Pattinson to do, or that he can do, but he does it well, also supporting the film with his name.
For all the film's faults, there are far, far more virtues, and Corbet establishes himself as a film-maker to watch out for.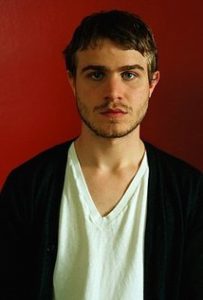 Corbet made his film debut as Mason Freeland in 2003's Thirteen and had roles as Brian Lackey in Mysterious Skin (2004) and as Alan Tracy in Thunderbirds (2004).
The Childhood of a Leader is the second collaboration between Corbet and Fastvold, after the screenplay for The Sleepwalker, directed by Fastvold.
© Derek Winnert 2016 Movie Review
Check out more reviews on http://derekwinnert