The Cat and the Canary **** (1939, Bob Hope, Paulette Goddard, Gale Sondergaard, George Zucco) – Classic Movie Review 4426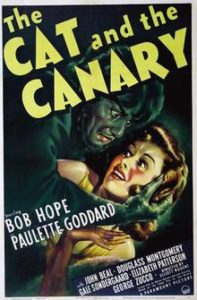 Director Elliott Nugent remakes director Paul Leni's famed 1927 silent classic The Cat and the Canary in 1939, with Bob Hope and Paulette Goddard starring this time.
Goddard's first star part in the movies casts her as Joyce Norman, the damsel in distress who will inherit her uncle's estate provided that she meets certain conditions. Murder follows when an eccentric family meets in their millionaire uncle Cyrus Norman's remote, decaying mansion on the tenth anniversary of his death for the reading of his will.
Hope's career was boosted by his extremely amusing, wise-cracking performance as Goddard's scaredy-cat protector Wally Campbell in Nugent's funny, though still scary remake of the spooky house thriller, based on John Willard's long-running 1922 stage play.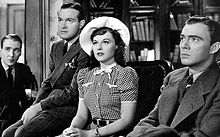 Apart from the nimble acting from the pleasing stars, there is sinister stuff from Gale Sondergaard as housekeeper Miss Lu and George Zucco as lawyer Crosby.
It also features Douglass Montgomery, John Beal, Nydia Westman, John Wray, George Regas, Chief Thundecloud, Milton Kibbee, Charles Lane, Frank Melton and Elizabeth Patterson.
It was a hit and Goddard and Hope re-teamed for the similar Ghost Breakers in 1940.
It was remade as The Cat and the Canary by Radley Metzger in the UK in 1978 with an all-star cast, including Michael Callan, Edward Fox, Wendy Hiller, Beatrix Lehmann, Olivia Hussey, Daniel Massey, Carol Lynley, Peter McEnery and Wilfrid Hyde White.
© Derek Winnert 2016 Classic Movie Review 4426
Check out more reviews on http://derekwinnert.com