The Carer ***½ (2016, Brian Cox, Coco König, Anna Chancellor, Emilia Fox, Karl Johnson, Roger Moore) – Movie Review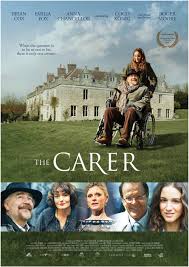 I'm afraid I have to take exception to the title of co-writer/ director János Edelényi's movie. It should be The Actor, as the film is all about a legendary old thespian, played to the hilt with the utmost skill and relish by a perfectly cast Brian Cox as the increasingly ill Sir Michael Gifford, suffering from an incurable disease, while not suffering fools gladly.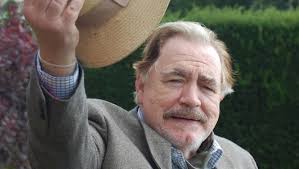 There's nothing much else I want to take exception to in The Carer, though I really think they should have made the awards ceremony Sir Michael attends the Critics Circle Awards and not the fake Critics Guild Awards of the movie, just for realism or just to help the always hard-pressed London Film Critics, who are hungry for much-needed publicity and whose lives are so much less exciting and rewarding (in every way) than those of the actors. Cox's character snipes at critics, of course, but then he attacks everything, and anyway everyone snipes at critics, though, happily, many patiently read what they have to say, and, heaven forbid, are sometimes influenced by them or roused enough by them to retaliate (or even agree with, or 'LIKE', or retweet) on the Internet.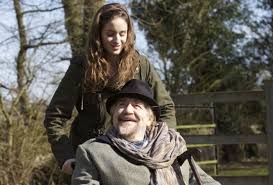 Anyhoo, Sir Michael needs a carer, and his tough-minded daughter (Emilia Fox) reluctantly hires a pleasant, plausible seeming Hungarian girl, Dorottya (appealing newcomer Coco König) an aspiring actress whose optimism and sense of humour charm Sir Michael. So does the idea that they have a common language – Shakespeare. Cox and Sir Michael have something particular in common, too. They are both famous for playing King Lear. Cox's little bursts of this in The Carer certainly make you feel someone needs to film his Lear sometime soon.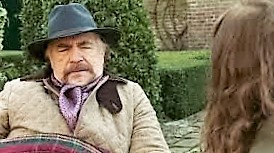 Tougher than she looks, Dorottya just wants to make it on the English stage, while less tough than he acts Sir Michael just wants to be left alone. Naturally, only one of them is going to have their fulfilled. It's the classic formula, with the duo forming an unlikely Bond, and inspiring each other. For a long while the film concentrates profitably on their developing relations, before revealing its true hand, to focus on The Actor and his last moment in the spotlight, his need for one more bow before the final curtain.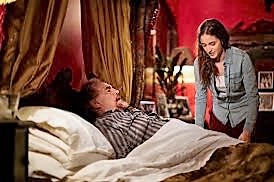 All this is amusingly, touchingly, gracefully done, especially by Cox, who acts being disgraceful with grace. They don't actually entirely manage to avoid sentimentality but it's to their great credit that they try very hard. They also try not to depress us too much about old age and sickness, so the film feels truthful while not being maudlin, and remaining a comedy not a tragedy.
Emilia Fox, Anna Chancellor and Karl Johnson have a tougher time, as the show isn't about them. Fox has such an unsympathetic role that it's hard for her to play, but Chancellor is luckier as Sir Michael's old flame, and Johnson even luckier as Sir Michael's former dresser and now chauffeur, twinkling charismatically away.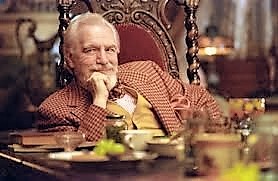 By the way, full disclosure, the lovely people behind the film invited the Film Critics Circle [not the Critics Guild, they weren't invited] to the premiere of their movie at the gloriously refurbished Regents Street Cinema, where the very first moving picture was screened in the UK. It was such a memorable evening, just last night as I write, so it's hard to stay impartial about the film. The chairperson of the Q&A after the film was Miriam Margolyes, who mixed flashes of sharp wit with a lot of luvvy speak – 'you were wonderful, darling'.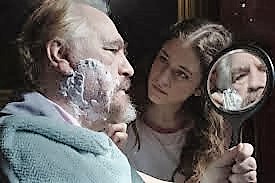 Well Brian Cox is rather wonderful, darling. Both in the film and in person on the stage, where he seemed exactly the bloke you thought he'd be, relaxed, thoughtful, intelligent and funny – and just nice. Of course, as he's such a good actor, that all might be an act, after all he did play Hannibal Lecktor (in Manhunter). Next up he's playing Churchill and Marlon Brando, though admittedly not in the same movie. Cox was also memorable as Ward Abbott in The Bourne Identity and The Bourne Supremacy but, until they do a prequel, he can't be in the current reboot because they keep killing their best characters off.
Cox is 70, has been acting over 50 years since 1965, has over 200 credits, and is a national treasure. Luckily, he is still in his prime. The life of Brian is quite a life.
Roger Moore has a twinkly cameo as Roger Moore on screen at the awards ceremony.
© Derek Winnert 2016 Movie Review
Check out more reviews on http://derekwinnert