The Captain's Table *** (1958, John Gregson, Peggy Cummins, Donald Sinden) – Classic Movie Review 5017
Director Jack Lee's 1958 movie is a typical Fifties British comedy with its air of being keen and eager to raise laughs coming over as a bit desperate to please.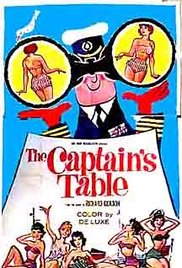 John Gregson stars as the rough cargo Captain Albert Ebbs, who is taking over a posh liner. But it is the funny performances from people like Donald Sinden as sexy Shawe-Wilson, Reginald Beckwith as fussy Burtweed, Richard Wattis as snooty Prittlewell, John le Mesurier as vague Sir Angus and Maurice Denham as snobby Major Broster that make all the difference between sink and swim here.
The leading ladies have a difficult time making their mark in even more stereotyped roles: Peggy Cummins, Nadia Gray and June Jago are all aboard as lusty ladies Mrs. Judd, Mrs. Porteous and Gwenny Coke, all cruising for a man. But Joan Sims (typecast as her usual sex-starved spinster character) scores an amusing hit as Maude Pritchett.
Also in the strong cast are Miles Malleson (inevitably, as Canon Swingler), Bill Kerr, James Hayter, Lionel Murton, Nora Nicholson, John Warner, Harry Locke, Joseph Tomelty, Ed Devereux, Rosalie Ashley, Donald Churchill, Steven Berkoff, Oliver Reed, Yvonne Buckingham, Lynne Cole and Beth Rogan.
The screenplay by John Whiting, Bryan Forbes and Nicholas Phipps is based on Richard (Doctor in the House) Gordon's novel.
© Derek Winnert 2017 Classic Movie Review 5017
Check out more reviews on http://derekwinnert.com