The Call *** (2013, Halle Berry, Evie Thompson, Abigail Breslin, Michael Eklund) – Movie Review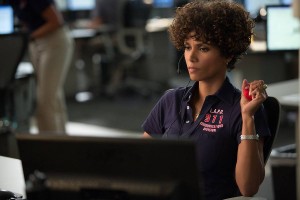 Halle Berry's the perfect fit here as a veteran 911 emergency call centre operator who takes over the call when an average American teenage girl (Abigail Breslin) is abducted by a serial killer (Michael Eklund) and manages to send a 911 call from the trunk of his car.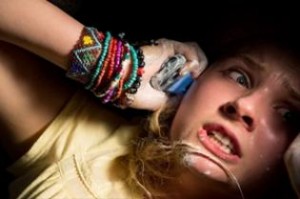 Director Brad Anderson's fast-paced high-stakes thriller keep you on the edge of your seat for the first hour while Berry's behind the phone. Everything's splendidly sweaty palmed. It's just great.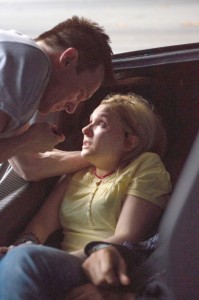 Then it suddenly goes off the rails when Berry is told she can do no more at the call centre and must go off, and so sets off in her car and tries to find the killer herself. The last half hour chucks in every serial killer cliché in the book and more and more nonsensical incidents as credibility flies out of the window, draining the life blood out of what had been a tremendous thriller.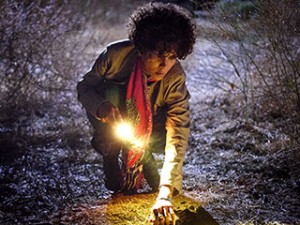 Yet it is definitely worth it for the fresh premise, ideal performances of Berry and Breslin, the slick film-making, the tense, queasy atmosphere and the 60 great old-style thriller minutes. I'd happily see it again quite soon and would even welcome a sequel.
We don't get to see that much of Berry (47) these days, especially in something she is exactly right for, so this is even more welcome. Other actresses could have done it, but Berry stamps it with her unusual personality, an odd mix of warmth and cool reserve.
Richard D'Ovidio was inspired to write his tidy, useful screenplay after his wife heard a news item on National Public Radio about call centres and realised that they had never seen a movie or TV show about them.
The low budget production of $13 million turned into a nice profit-making hit in the US with a $52 million box-office take.
Also in the cast are Morris Chestnut, Evie Thompson, David Otunga, Michael Imperioli, Justina Machado, José Zúñiga and Roma Maffia.
© Derek Winnert 2013 Movie Review derekwinnert.com
Check out more reviews on http://derekwinnert.com