The Bride of Frankenstein ***** (1935, Boris Karloff, Colin Clive, Ernest Thesiger, Elsa Lanchester, Una O'Connor, Valerie Hobson, Gavin Gordon, Dwight Frye, Douglas Walton, E E Clive) – Classic Movie Review 32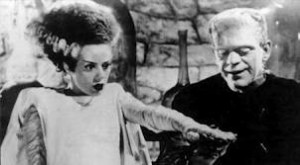 Director James Whale's 1935 sequel to his 1931 Frankenstein arguably turned out to be even better than the original, and confidently stakes its claim to being THE classic horror film of all time.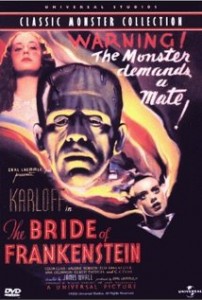 Ernest Thesiger etches his way into the memory and film history with a marvellously effective performance from as the outrageously camp, creepy, crazy old mad scientist Dr Septimus Pretorious ('You think I'm mad, perhaps I am.')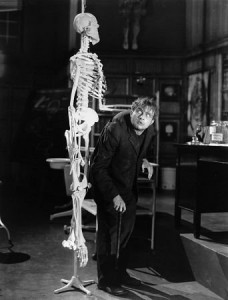 It turns out the Monster (Boris Karloff reprising his iconic role) has survived the mill fire at the end of the 1931 Frankenstein and that the Baron Henry Frankenstein (Colin Clive returning from the original) is also alive. Frankenstein desperately wants to end his seemingly doomed experiments but his former teacher Pretorious kidnaps his young wife Elizabeth (the 17-year-old Valerie Hobson) to persuade him to get back in business.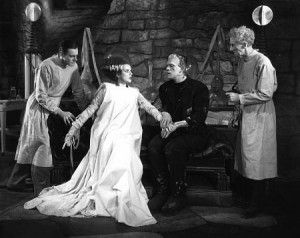 'To a new world of Gods and Monsters,' Pretorious says, forcing Frankenstein to create a bride for the Monster. 'I love dead, hate living,' says the Monster to Pretorious. 'You make man like me?' 'No woman, friend for you.' 'Woman, friend, wife.'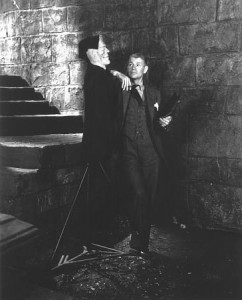 Despite Karloff's protests, he has a proper speaking role this time (which forced changes in the famous creature makeup by Jack P Pierce, who also took into account damage suffered by the Monster in the fire). But, nevertheless, the film and performance are richer for this and Clive is more confident as Frankenstein this time.
The other great addition to the cast is the 5' 4" Elsa Lanchester, who mounted stilts to appear seven feet tall to play the wide-eyed, white-streaked, shock-haired Monster's Mate, The Bride, in a brief but indispensable performance, creating one of the most unforgettable images in the movies, as permanently famous as that of Karloff. No mean feat, that.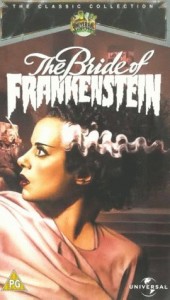 This is a glorious, all-time great horror movie from masterly Whale, who is on inspired, magisterial form, in full command of John L Balderston's chilling script laced with a dash of dark humour, the memorable performances, stupendous, classic score (Franz Waxman) and incredibly stylish, noir-style cinematography (John Mescall). The Bride creation scene is still quite amazing.
The full film runs 87 minutes but the 75-minute original release version was shorn of the odd and slightly uncomfortable preamble, in which Lanchester also plays Frankenstein author Mary Wollstonecraft Shelley, Gavin Gordon has the role of Lord Byron and Douglas Walton is Percy Bysshe Shelley. It is kind of an arty contrivance and, though not terrible, it is somehow not entirely successful.
So Universal Pictures realised this prologue is dispensable and just went ahead and dispensed with it, along with some of the killings in the main part of the story, cutting the film by 12 minutes. Una O'Connor also has dual roles, as Minnie and playing Shelley's maid in the prologue.
Also in the cast are Dwight Frye as Karl, E E Clive, O P Heggie, John Carradine, Lucien Prival, Reginald Barlow, Mary Gordon, Anne Darling, Tempe Pigott, J Gunnis Davis, Ted Billings, Neil Fitzgerald, Walter Brennan, Helen Gibson, Norman Ainsley, Peter Shaw, Billy Barty, Elspeth Dudgeon, Jack Curtis, Edward Peil Sr, Mary Stewart, Dorothy Vernon, Joan Woodbury and Helen Parrish.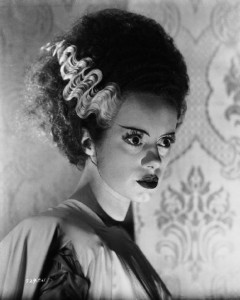 The Bride of Frankenstein was reworked as 1985's The Bride with Sting and Jennifer (Flashdance) Beals. Having directed the The Invisible Man (1933), Whale also made one other really fascinating chiller, The Old Dark House, in 1932, also with Karloff and Thesiger, and Whale's story is told in Gods and Monsters (1998), with Ian McKellen playing him.
On 4 April 2018, it was revealed that Bill Condon (2017's Beauty and the Beast) is in early talks with Universal Pictures to remake The Bride of Frankenstein.
http://derekwinnert.com/the-old-dark-house-1932-boris-karloff-classic-film-review-1036/
http://derekwinnert.com/gods-and-monsters-classic-film-review-264/
http://derekwinnert.com/frankenstein-classic-film-review/
© Derek Winnert 2013 Classic Movie Review 32
Check out more reviews on http://derekwinnert.com/