The Bride and the Beast [Queen of the Gorillas] * (1958, Charlotte Austin, Lance Fuller, Johnny Roth, William Justine, Gil Frye, Jeanne Gerson, Steve Calvert) – Classic Movie Review 4218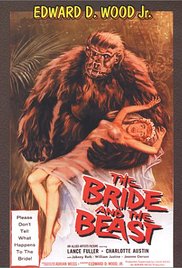 Charlotte Austin stars as The Bride who turns her attentions away from her explorer groom (Lance Fuller) to The Beast – his gorilla – in director Adrian Weiss's incoherent, awesomely terrible 1958 chiller. Under hypnosis, she reveals she was Queen of the Gorillas in a previous incarnation. Laura and Dan just are not a marriage made in heaven!
It comes from the pen of the world's worst director – Edward D Wood Jr – and that alone ensures that it at least is good for a few laughs.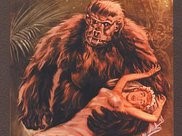 Also in the cast are Johnny Roth, William Justine, Gil Frye, Jeanne Gerson and Steve Calvert. The story is by director Weiss.
78 minutes of Fifties black and white horror, released by Allied Artists, it is also known as Queen of the Gorillas.
Steve Calvert plays the gorillas, Ray Corrigan plays Spanky, the wife-stealing gorilla and Calvert's circus clown friend Bobby Small wears the alternate gorilla suit in scenes requiring two apes in the same shot. But when Spanky bumps into the stone wall, it wobbles!
© Derek Winnert 2016 Classic Movie Review 4218
Check out more reviews on http://derekwinnert