The Boy Who Turned Yellow *** (1972, Mark Dightam, Robert Eddison, Helen Weir, Brian Worth, Esmond Knight) – Classic Movie Review 5507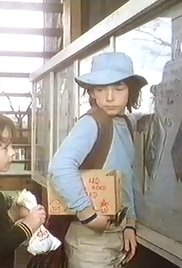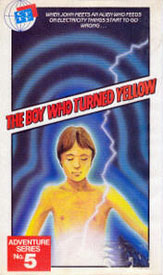 Michael Powell's last film, released in the UK on 16 September 1972, was for the Children's Film Foundation – ironically since this was the man driven out of Britain by the over-reaction to his horrific psycho serial killer thriller Peeping Tom (1960).
Touchingly and fittingly, it reunited him with his old writer-producer-director partner, with whom he had earlier fallen out – Emeric Pressburger – as original story and screenplay screen-writer. Powell is also reunited with his old cinematographer partner Christopher Challis, as well as his regular actor Esmond Knight.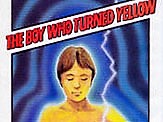 A schoolboy called John Saunders (Mark Dightam) goes with his friends on a school trip guided tour of the Tower of London, with his two pet white mice, Father Christmas and his wife Alice, losing Alice in the Bloody Tower.
After turning yellow on the way home on the underground, frustrating his doctor (Esmond Knight), the boy dreams he has a strange visitor 'Nick' (short for Electronic) (Robert Eddison) in the night who guides him into his television set and finds his mouse then just escapes back through the TV set when he is about to have his head chopped off by Tower of London guardian Beefeaters.
Also in the cast are Helen Weir, Brian Worth, Laurence Carter, Patrick McAlinney and Lem Kitaj [Lem Dobbs].
It runs just 55 minutes, is produced by Roger Cherrill, and is score by Patrick Gowers and David Vorhaus.
Powell recalled: 'What had merely been a move for self-preservation turned into the final collaboration of Powell and Pressburger. One day I suggested it to an appalled board. I pushed it through, sold Emeric on the idea, and presently he came up with a story. It was called The Wife of Father Christmas.'
It was shot at Shepperton studios and on location in London – the Tower of London, Holborn tube station, Hampstead tube station exterior, Hampstead Heath, and Christchurch Hill and Willow Road in Hampstead
Powell was delighted when it won the Children's Film Foundation award for best children's film two years running. It won the Children's Film Foundation 'Chiffy' award, voted for by the children themselves.
The credits run: 'Our thanks to The Governor of the Tower of London, the London Transport Executive and Studio Film Laboratories Ltd. … FOR TURNING THEMSELVES YELLOW.'
It was screened for kids on Saturday mornings in a whole programme, lasting nearly three hours, of cartoons, serial episode and main feature, in weekly events such as the 'Saturday Club'.
© Derek Winnert 2017 Classic Movie Review 5507
Check out more reviews on http://derekwinnert.com