The Boss Baby *** (2017, voices of Alec Baldwin, Steve Buscemi, Jimmy Kimmel, Lisa Kudrow, Tobey Maguire, Miles Bakshi) – Movie Review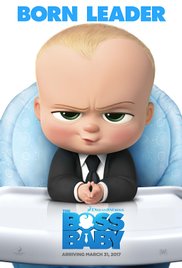 Director Tom McGrath's quirky, amusing and likeable 2017 DreamWorks CGI animation starts with a real good idea to kick it off. There are lots of quite big laughs to be found, especially early on, and it is a good-mood crowd-pleaser.
However, sustaining it at a high level of laughs and fun for an hour and a half proves tricky, and there's a slump in the humour and invention midway.
But, nevertheless, the attractively bonkers movie keeps likeable and amusing, apart maybe from the inevitable treacly, schmaltzy ending.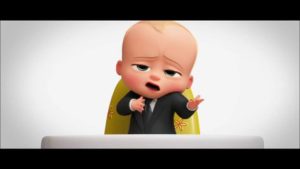 Alec Baldwin's voice of the Boss Baby proves a real star, giving character and crackle to the film. Other voices are provided by Steve Buscemi, Jimmy Kimmel, Lisa Kudrow, Tobey Maguire, and Miles Bakshi.
Based on the book by Marla Frazee, the film focuses on a happy seven-year old kid, Timothy Leslie Templeton (voice of Miles Bakshi), whose perfect life with Mom and Dad (Lisa Kudrow, Jimmy Kimmel) is threatened by the sudden, unexpected arrival of a bad-tempered, bossy suit-wearing briefcase-carrying baby.
They become instant enemies when Tim rumbles what he's up to – and that he can talk! But, things change, and they decide to put their differences aside and pair up together to stop the dastardly plot of evil Francis Francis (Steve Buscemi), the CEO of Puppy Co. Tobey Maguire voices Adult Tim and is the film's Narrator. They perhaps didn't give you a lot to do, but it is good to have you back, Tobey.
The fairy tale fantasy story doesn't make any actual sense, but it still to be about something – the difficulties of growing up, family life, brother-brother relationships, forming bonds, handling disputes, sibling rivalry, the chaos caused by a new baby, that kind of thing. That is really quite clever, huh?
© Derek Winnert 2017 Movie Review
Check out more reviews on http://derekwinnert.com