The Book of Henry * (2017, Naomi Watts, Jaeden Lieberher, Jacob Tremblay, Dean Norris, Lee Pace) – Movie Review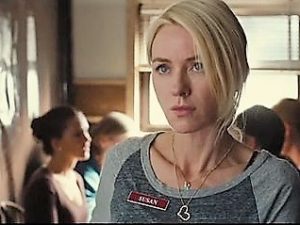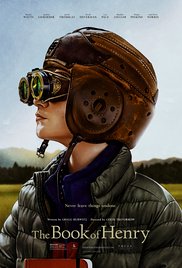 The Book of Henry is an interesting but dodgy mix of thriller and tear-jerking drama. There's enough material for three separate movies here. And that is always good. Any one of them might have been good. But none of the elements gel. They just couldn't.
Naomi Watts plays American single suburban mother Susan Carpenter, a sweet and lowdown low-achiever who works as a waitress at a diner with her sassy, feisty co-worker Sheila (Sarah Silverman). Susan has two sons – the playful eight-year-old Peter (Jacob Tremblay, aged 10) and the gifted, way-too-serious 11-year-old child prodigy Henry (played by Jaeden Lieberher, aged 14), who plays family father, looking after both mom and bro. The child is the parent to the childish grown-up. Now this is the interesting bit. All this is good. The film has our attention.
[Spoiler alert] But then there's the creepy next door neighbour Glenn Sickleman (Dean Norris), step-dad to Henry's sweet classmate Christina (Maddie Ziegler), on whom Henry has a crush. You know Sickleman is going to be the bad guy, because he starts off by complaining that Susan's leaves are blowing into his garden. The answer, my friend, is blowing in the wind.
Even his name even seems creepy. Mmm, Sickleman = Sick Man. They always cast a bald bloke in this role. Bald = creepy in movies, unless of course you're an action hero – Diesel, Johnson or Statham. Then bald = brutal.
Now, soon, with the help of handy Rear Window-style binoculars, Henry susses out that Sickleman is definitely a sick man, apparently having sex with his child. Adept at doing the family's finances and investments, while mom is playing video games, it is no trouble for Peter to contact the social services. But then he finds out that they'll do nothing, because the apparently upright pillar of the community Sickleman is connected to the law in the small town's police department through his brother.
[Spoiler alert] The ingenious and resourceful Peter starts to make alternate plans to help Christina that include a visit to an armoury shop. But then, something happens… and Susan finds herself at the centre of Henry's rescue plan, following the instructions in her genius son's carefully concocted red notebook.
The thriller is certainly complex and well set up, definitely interesting and intriguing, though using child abuse as a thriller plot device is lazy, awkward and possibly potentially dodgy. But then, something happens … that's when the film turns into its third act tear-jerking drama mode. Each of the three parts of the story get progressively worse.
Watts goes to it will a strong will in a powerful, persuasive turn. Lieberher from St Vincent and Midnight Special is a brilliant little actor, like someone who has been working in the business for at least 30 years. Tremblay from Room (2015) is good again but the film isn't about him, as the nerdy half-forgotten kid brother. What power and success the film has seem to be entirely down to these three actors.
Director Colin Trevorrow may say he is shocked at the negative reaction to his film, but he shouldn't be. If he really is, he hasn't understood the material. He handles it competently but the material is way too manipulative and artificial for him to make it work. The plot was getting so far fetched, that it seemed certain the film was going to announce 'based on a true story'. It is written by Gregg Hurwitz, the bestselling author of 17 novels, and you think this script might probably have worked better as a novel.
[Spoiler alert] Lee Pace is really creepy as the caring Dr David Daniels who treats Henry and keep popping up unexpectedly. I was totally hoping that the movie was going to pull off a magic last-minute twist by revealing that Sickleman wasn't an abuser after all – Henry was wrong! – and that Daniels was. The film wants you to cry, but there was not a damp eye in the almost empty house at the cinema.
Two films about gifted kids in one week, following Gifted! There must actually be gifted children but these really are plot device stock character kids you only find in movies.
Trevorrow directed Safety Not Guaranteed (2012) and Jurassic World (2015). He is to write and direct Star Wars: Episode IX, or at least was till it was announced on 4 September 2017 that he and Disney had parted company: 'We have all come to the conclusion that our visions for the project differ.'
Lieberher played Vincent in St Vincent (2014), which also starred Watts.
© Derek Winnert 2017 Movie Review
Check out more reviews on http://derekwinnert.com