The Boat That Rocked [Pirate Radio] **** (2009, Tom Sturridge, Charlie Rowe, Philip Seymour Hoffman, Bill Nighy, Nick Frost, Chris O'Dowd, Kenneth Branagh, Rhys Ifans, Jack Davenport, Emma Thompson) – Classic Movie Review 798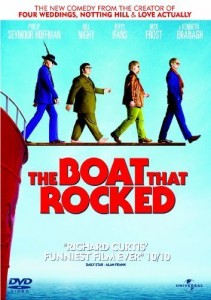 A lot was expected of this extremely likeable and funny 2009 comedy from writer-director Richard Curtis, the laugh mastermind behind the scripts of Blackadder, Mr Bean and The Vicar of Dibley for TV and Four Weddings and a Funeral, Notting Hill and Bridget Jones's Diary for the movies, as well as Love Actually, his debut as film director.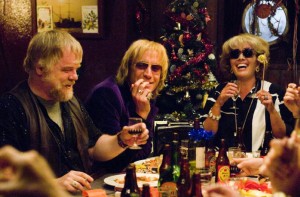 Little-known Tom Sturridge (son of the director Charles Sturridge and the actress Phoebe Nicholls) does well as Little Carl, a Sixties teenager who climbs aboard ship to live with his godfather Quentin (Bill Nighy), who runs pirate station Radio Rock from a boat in the North Sea.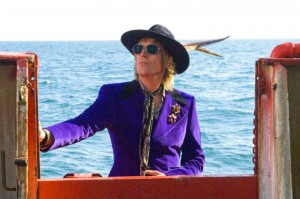 Adult stars Philip Seymour Hoffman (as The Count, the brash American god of the airwaves), Rhys Ifans (as Gavin, the greatest DJ in Britain), Chris O'Dowd and Nick Frost have a high old time on the high seas as the station's motley crew of DJs who teach the callow lad the ways of the world. And Kenneth Branagh is funny (in an obvious sort of way) as the government minister who plots to silence Radio Rock.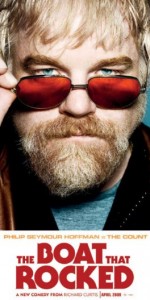 Curtis's bitter-sweet comedy is a great subject for a movie and he gets shiploads of hearty laughs from it – not all of them subtle (Jack Davenport's character name of Twatt is a joke hammered way beyond death). The movie was attacked for being thinly plotted and hugely overlong at 135 minutes – it was cut by 20 minutes and re-titled Pirate Radio for its much delayed US release – but in reality it's richly entertaining and enjoyable. And it keeps rocking for its whole 135 minutes.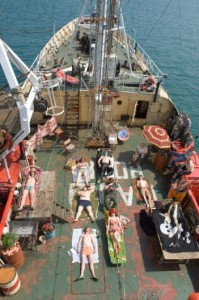 When the film isn't actually hilarious, which it is a lot of the time, it's appealing, good-natured and warmly humorous. It says much for Curtis' direction of his own script that a bunch of scene-stealing actors keep it all remarkably real.
Above all, all the old Sixties pop music hits keep coming. The music, carefully cued in by the DJs so we know what they all are, rocks.
© Derek Winnert 2014 Classic Movie Review 798
Check out more reviews on derekwinnert.com