The Blood on Satan's Claw *** (1971, Patrick Wymark, Linda Hayden, Barry Andrews) – Classic Movie Review 4094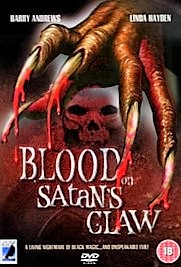 Director Piers Haggard's intriguing and skillful 1970 British costume horror thriller movie stars Patrick Wymark, Linda Hayden and Barry Andrews. It is produced by Tony Tenser for Tigon studios and released by Cannon.
Screen-writer Robert Wynne-Simmons tells the lurid, gory and gripping tale of Devil worship in a medieval British village in 17th century England. It begins with the discovery of a half-man, half-beast figure in a field and follows its strange effect on the local people as the children of the village start converting into a coven of Devil worshipers.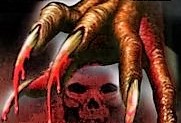 Wymark stars as the Witchfinder-type character The Judge, and Barry Andrews plays the landsman Ralph Gower, while Hayden (just 18) is effective in a steamy role as Angel Blake, the lusty young woman who leads the village children to Satan and seduces a priest, the Reverend Fallowfield (Anthony Ainley). Simon Williams has a good role as Peter Edmonton, who brings his fiancée Rosalind Barton (Tamara Ustinov) to his aunt's house for their wedding next day but she goes insane overnight, is carted off to an asylum and a claw has replaced her hand.
Haggard directs with notable skill, keeping it involving, and emphasising blood, sex and lurid detail. Strikingly shot by cameraman Dick Bush, and atmospherically scored by Marc Wilkinson, it is similar to Witchfinder General and Village of the Damned, only less stylised and more violent in the fashion of the Seventies.
Also in the cast are Avice Landone, Michele Dotrice, James Hayter as the squire, Robin Davis, Christine Mitchell and Wendy Padbury.
© Derek Winnert 2016 Classic Movie Review 4094
Check out more reviews on http://derekwinnert