The Blair Witch Project *** (1999, Heather Donahue, Michael C Williams, Joshua Leonard) – Classic Movie Review 590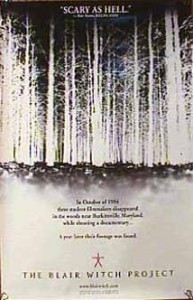 If you go down to the woods today you're sure of a big surprise when the hills are alive with the scares of witches. Writer-directors Daniel Myrick and Eduardo Sánchez manipulated the internet and the media and came up with what turned out to be a blockbuster and now a horror classic in 1999.  It went into the Guinness Book of World Records for Top Budget to Box Office Ratio for a mainstream feature film, costing $22,000 and earning $240.5 million, a ratio of $1 spent for every $10,931 made.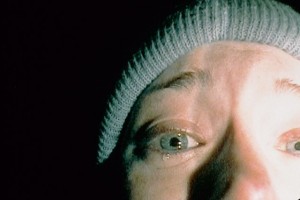 Heather Donahue, Michael C Williams and Joshua Leonard star as three young movie-maker students who decide to investigate the allegedly real-life ancient legend of the Blair Witch. They supposedly set off in 1994 on a witch hunt in the eerie Maryland Black Hill Forest woodlands.
As Something Out There dogs their every step, leaving little piles of stones outside their tent and weird witchy twig symbols dangling from trees, they bicker, chuck their map away, get scared, fall out, get lost. And then things get much, much worse when horror strikes. They're never seen or heard of again, and this movie is said to be their found footage, edited into a compact 81 minutes.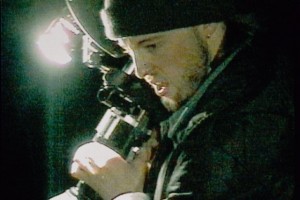 All this is certainly eerie, teasing stuff, but is it actually very scary or thrilling? If you like your horror movies cheap and cheerless, and if you're scared by flashing lights, bits of twig and things going bump in  the night, then this is for you. Inexplicably, and fuelled by a well-planned campaign of stories on the internet, this highly enterprising, micro-budget home movie was a huge box-office success. It took £15 million in UK cinemas.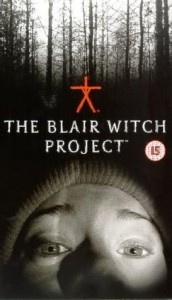 It's filmed in the grottiest home-movie fashion, with grainy, half-lit 'shaky-cam' and all-improvised dialogue. However, it tries to make a virtue of this disability by pretending to be a documentary of real events. While promoting the film, the producers claimed it was real footage. But, of course, it's all fake, fake, fake. They shot the film in eight days but it took eight months to edit it, with the first cut running two and a half hours.
The Blair Witch Project is eerie and occasionally creepy. But it's also mostly very repetitive and boring, with some irritating acting and no special effects. And, after a prolonged, teasing build-up, it climaxes in a weak, confusing ending, when a great big, gruesome finish could have made it. Still, as an ultra-raw, no-expense trip into terror, with hand-held 16mm cameras and earnest performances, it's certainly enterprising and successful.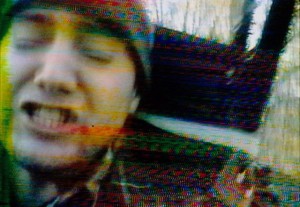 The sign for Burkittsville at the beginning of the movie has been stolen three times, including the night the movie opened. Extra 'Newly Discovered Footage' was included on the DVD release. They really did mix fact and fiction: the three main actors were listed as 'missing, presumed dead' on the IMDb and Donahue's mom received sympathy cards from people who believed her daughter is actually dead or missing. The stars believed the Blair Witch was a real legend during filming, though they knew the film was going to be fake. Only after the film's release did they learn the entire mythology was made up by Myrick and Sánchez.
Sequel: Book of Shadows: Blair Witch 2 (2000).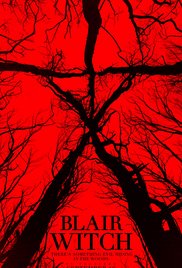 On 27 July 2016, Lionsgate announced that their horror movie Blair Witch, the second sequel to The Blair Witch Project, will be released in UK cinemas on 15 September 15 2016.
© Derek Winnert 2013 Classic Movie Review 590
Check out more reviews on http://derekwinnert.com/