The Black Torment **½ (1964, Heather Sears, John Turner, Ann Lynn) – Classic Movie Review 4443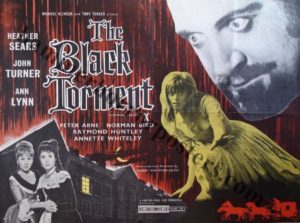 Director Robert Hartford-Davis's creepy 1964 British Rebecca-style chiller is set in 1780 in England, where a baron's new second wife Lady Elizabeth Fordyke (Heather Sears) investigates the suicide and ghostly reappearances of the first Lady Fordyke.
The sanity of the baron, Sir Richard Fordyke (John Turner), is called into question when a number of evil events are laid at his door. Lady Elizabeth hear rumours that her new husband has secretly committed several murders. But his first wife's sister is another suspect in the deaths.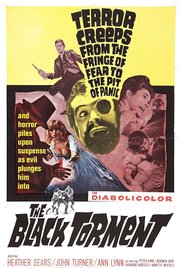 The Black Torment (aka Estate of Insanity) is an effective minor costume horror mystery melodrama with stalwart playing by a good, none-too-starry cast of actors, an atmospheric production and solid plotting. Only the rather plodding, unimaginative direction holds it back.
Also in the cast are Ann Lynn, Joseph Tomelty, Peter Arne, Raymond Huntley, Patrick Troughton, Francis D Wolff, Edina Ronay, Annette Whitely and Norman Bird.
© Derek Winnert 2016 Classic Movie Review 4443
Check out more reviews on http://derekwinnert.com