The Birth of a Nation *** (2016, Nate Parker, Armie Hammer, Penelope Ann Miller, Jackie Earle Haley) – Movie Review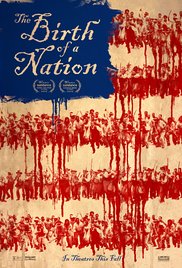 Writer-director Nate Parker's 2016 biographical drama tells the true story of Nat Turner, born into slavery, but who becomes literate and a preacher in the antebellum American South of Virginia in 1831. Nat preaches to his fellow slaves, encouraging them to have the faith and will survive their adversities, but then Nat's impecunious owner Samuel Turner (Armie Hammer) accepts a neighbouring slave owner's dodgy offer of money to use Nat's gifts of preaching to subdue unruly slaves.
Honest and true, Nat refuses to bow down in the face of an endless series of atrocities. And, after being horrendously whipped by Turner for baptising a white man and after his wife is sexually assault by white men, Nat finally orchestrates an armed uprising against the whites.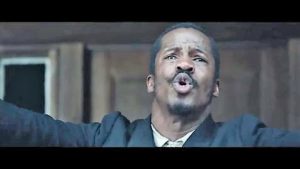 It is a powerful, conscientious and well meaning movie but also an unsubtle and uninspired one. It is bound to be compared with 12 Years a Slave (2013) and to be found an also ran. The music score is a major problem, pounding away throughout, complete with ghastly angel choirs whenever a bit of extra unsubtlety is required. Why can't Parker just let his story tell itself? Has he no belief in it? It's quite strong enough. Visually, too, there is no subtlety. There are too many shots of sunsets and scenery, and simple-minded shots of angels, butterflies and religious images.
Parker gives himself the star role, and carries it out well and convincingly, leaving Armie Hammer and Jackie Earle Haley having to play the ungrateful roles of his villainous white owner Samuel Turner and the even more villainous slave catcher Raymond Cobb. These are not subtle characterisations, and the good actors are left to do whatever they can to flesh out their characters. It's good to see Penelope Ann Miller again, as Hammer's troubled but basically kindly mum, but she too has a thin, ineffectual character to play.
Parker's film is of course, as usual, only based on truth, with liberties understandably taken for dramatic licence. In reality, Turner's rebellion was based on spiritual visions, according to his own writings. In a seventh vision he saw a holy war and believed he was commanded to take up arms against his oppressors.' As usual, both sides thought they had God on their side. However, that means that one of the film's themes could be the comfort or the destruction that religion brings in the right of wrong minds.
Also, in reality, Turner was married, not in a love match but by Turner, and to a slave named Cherry. So the romantic side of the story is tacked on, and sentimental.
Apart from its horrendous subject matter, the story is a deeply worrying one as an evident call to arms, to revolt, to revolution, with its final image of revolutionaries charging with loaded weapons at the audience. Parker himself speaks of his intention in the film 'to inspire a riotous disposition toward any and all injustice in this country (and abroad) and to promote the kind of honest confrontation that will galvanize our society toward healing and sustained systemic change.' That isn't a peace-loving message and this isn't a peace-loving movie proposing a world where neighbours can live in harmony together, maybe even love each other. That would really be a better message to be sending out today.
The film looks remarkably good, with plenty of convincing period atmosphere and detail. They have got a lot of value for their $10 million budget.
It references the 100-year-old D W Griffith racist silent movie classic The Birth of a Nation. Parker says: 'Griffith's film relied heavily on racist propaganda to evoke fear and desperation as a tool to solidify white supremacy as the lifeblood of American sustenance. I've reclaimed this title and re-purposed it as a tool to challenge racism and white supremacy in America.'
© Derek Winnert 2016 Movie Review
Check out more reviews on http://derekwinnert.com