The Big Trail **** (1930, John Wayne, Marguerite Churchill, El Brendel, Tully Marshall, Tyrone Power Sr) – Classic Movie Review 5480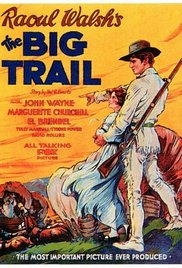 John Wayne's mentor and friend John Ford recommended him to director Raoul Walsh to star in this eventful, huge-budget epic 1930 Western as Breck Coleman, the wise scout of the wagon train of pioneers edging its way along the Oregon trail. It is notable both as a key film in the development of the Western and as Wayne's first Western and first leading role.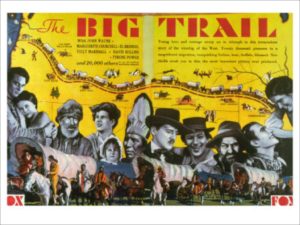 Ford recommended Wayne because he 'liked the looks of this new kid with a funny walk, like he owned the world'. So Walsh hired the inexperienced Wayne when he couldn't get Gary Cooper, and Walsh told him to 'sit good on a horse and point'.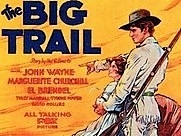 Breck leads the wagon train over deserts, across swollen rivers and down steep cliffs, through thick and thin of attack by Native Americans and storms, meanwhile looking for his trapper friend's killer and of course falling in love with the heroine, Ruth Cameron (Marguerite Churchill).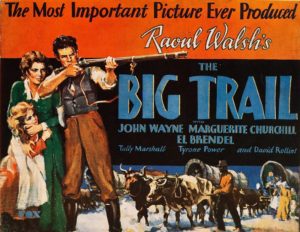 The Fox studio shot the film on location across the American West in both widescreen and standard screen. The shoot began near Santa Fe, New Mexico, in April 1930, in all on-location filming that was rare at the time and became worryingly costly. The film was shot in an early widescreen process using 70mm film called 70 mm Grandeur film.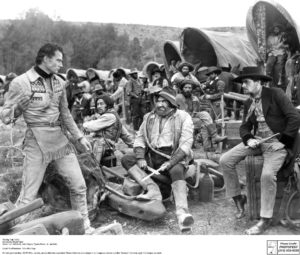 It was released in a 122 minute version as a widescreen film when most cinemas had only standard screens, and it became a box office bomb due to its huge costs and lack of screens to show it in. The 35mm version ran 108 minutes. The versions vary substantially, being shot by different cameras and edited separately in the cutting room.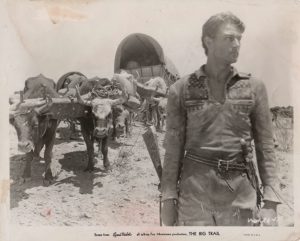 Later Wayne believed that having to hold back the widescreen version hurt the film's success. More damaging, though, is its clichéd story by Hal G Evarts and the stageyness of its construction and delivery, with just too few memorable sequences like the lowering of the wagons down the steep cliff precipice, which is still truly amazing.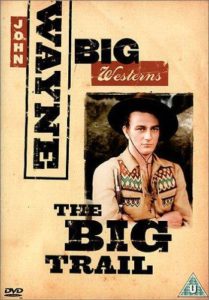 However, the young Wayne impresses greatly, effortlessly showing his growing star quality. And the film has a dazzling epic visual sweep, and is a brave and commendable attempt at authenticity and realism.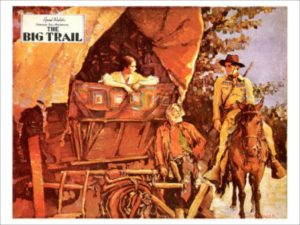 The failure of this immensely costly ($2 million) film meant that Wayne did not become a superstar for another nine years, relegated to B-movies like his next, Texas Cyclone, until he made Stagecoach.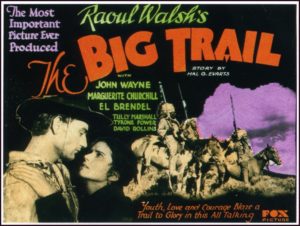 The villain Red Flack is played by Tyrone Power Sr in his last role. He died of a heart attack on 23 aged 62. Also in the cast are El Brendel, Tully Marshall, David Rollins, Ian Keith, Charles Stevens, Frederick Burton, Russ Powell, Helen Parrish, Louise Carver, William V Mong, Jack Peabody, Ward Bond and DeWitt Jennings.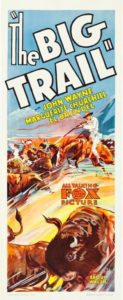 Simultaneous French (La Piste des Géants), Italian (Il grande sentiero), Spanish (La Gran jornada) and German (Die Grosse Fahrt) versions were made with different casts and directors.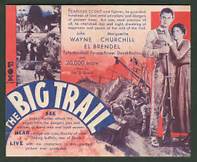 It is written by Jack Peabody, Marie Boyle, Florence Postal and Arthur Edeson, shot by Lucien Andriot, Don Anderson, Bobby Mack, Arthur Edeson, Sol Halprin and Curt Fetters, and scored by Arthur Kay.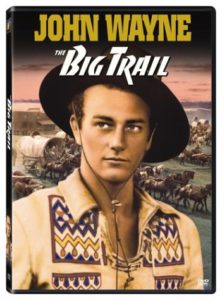 When the US Library of Congress selected it for preservation in the National Film Registry in 2006, it said: 'The plot of a trek along the Oregon Trail is aided immensely by the majestic sweep provided by the experimental Grandeur widescreen process used in filming'.
A two-disc restored DVD was released in the US on 13 May 2008 featuring both versions.
© Derek Winnert 2017 Classic Movie Review 5480
Check out more reviews on http://derekwinnert.com