The BFG **½ (2016, Mark Rylance, Ruby Barnhill, Penelope Wilton) – Movie Review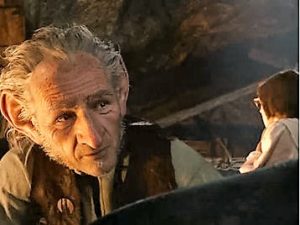 The 12-year-old Cheshire girl Ruby Barnhill plays orphan Sophie who gets a big fat scare, and then an awfully big adventure when she meets the 24-foot Big Friendly Giant (a digitalised Mark Rylance). Though he has abducted her to the Land of the Giants, and is holding her in his workshop home, the fearless Sophie discovers he is gentle and charming.
At any rate, it turns out he is not going to eat her, and they start a friendship, attracting the scary attention of Bloodbottler (a CGI-ed Bill Hader), Fleshlumpeater (a CGI-ed Jemaine Clement) and other giants who think the BFG an outcast because he is not in the children eating business. The giants are after Sophie.
But, after literally dusting off an old portrait of Queen Victoria, Sophie has a brainwave to save the two of them. They'll go to London and convince Queen Elizabeth (Penelope Wilton) to help them get rid the bad giants.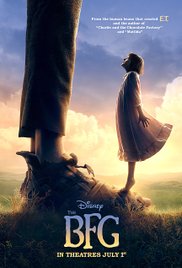 This 2016 summer family movie is advertised as 'from the human beans that created E.T. [director Steven Spielberg and screenwriter Melissa Mathison] and the author of Charlie and the Chocolate Factory and Matilda [it is based on the book by Roald Dahl].' Well that sounds promising, and, as plot's go, this one has novelty value on its side.
The screenplay is written by Harrison Ford's ex-wife Melissa Mathison, who did not live to see the movie as she tragically died of cancer on aged 65. She also wrote The Black Stallion, E.T. the Extra-Terrestrial, The Escape Artist, The Indian in the Cupboard and Kundun.
Mathison tweaks Dahl's story to make it screen friendly, but it remains very much a Dahl piece, odd and dark. As a movie, Spielberg keeps The BFG just that – big and friendly , not too odd and dark, preferring to concentrate on the gentle and charming aspects of things. A bit more edge would be good. It is so gentle and old fashioned that you expect it to have a U certificate, but no, it is rated PG for action/peril, some scary moments and brief rude humour.
It is impeccably crafted, as we expect from Spielberg, but lacks enough power and laughs, sometimes seeming talky and dull. The first two thirds is all Sophie and BFG, then it becomes a totally different film when the Buckingham Palace segment starts. Wilton keeps The Queen role as an acting performance rather than a cabaret turn, limiting the laughs, though it is probably the right route to go, certainly the respectful route. Spielberg wants to stay friendly with his fans in the UK. Rebecca Hall and Rafe Spall have thankless roles as the Queen's helpers. With so few characters and a short-story feel, the material seems thin for a two-hour movie.
Slightly surprisingly, the kids in the audience seemed to like The Queen section best, provoking most of their laughter, though it's no surprise that the drink that the BFG has, with bubbles going down instead of up, caused the biggest laughter, with huge general amusement at the Queen passing wind. To be fair, Spielberg cuts this off as fast as possible, returning to the good taste of the rest of the movie PDQ.
Rylance does create a good character, mostly just by his voice, and Barnhill is reasonably appealing, so they are nice company, if not necessarily for two hours.
It cost a hefty $140 million, but CGI is expensive, and took less than $50 million following its American release on 1 July 2016.
© Derek Winnert 2016 Movie Review
Check out more reviews on http://derekwinnert