The Barkleys of Broadway ***½ (1949, Fred Astaire, Ginger Rogers, Oscar Levant) – Classic Movie Review 6018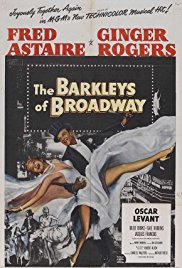 After a decade apart as a screen partnership since The Story of Vernon and Irene Castle (1939), Ginger Rogers gets to star with Fred Astaire again for one final fling as his replacement co-star when Judy Garland pulled out of the project. Poignantly, it is their last dance together.
Director Charles Walters's 1949 MGM musical tale of a famous theatrical couple, John and Dinah Barkley, splitting up is not the Astaire and Rogers team's best work, but it will do nicely. The appealing couple give pleasing performances and still dance up a storm, the Betty Comden and Adolph Green script sparkles and the new songs by Harry Warren (music) and Ira Gershwin (lyrics) are more than happy enough.
Welcome co-stars Oscar Levant, Billie Burke, Gale Robbins and George Zucco are in pleasant attendance. Also in the cast are Jacques François, Clinton Sundberg, Inez Cooper, Carol Brewster, Wilson Wood, Jean Andren, Laura Treadwell, Hans Conried and Frank Ferguson.
Strangely, since Betty Comden and Adolph Green's original screenplay wasn't written for them, the story reflects the two stars' real-life professional partnership split, as a feuding musical comedy team is threatened when the wife gets an offer as a serious actress.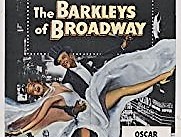 The highlights include Astaire's 'Shoes with Wings On' and the couple singing 'My One and Only Highland Fling' in thick Scots brogue. That's Entertainment III shows the title number without being interrupted by showing the credits. Also They Can't Take That Away from Me, You'd Be Hard to Replace, Bouncin' the Blues, Week-End in the Country and Manhattan Downbeat.
It is shot in Technicolor by Harry Stradling Sr, who was Oscar nominated for Best Cinematography Color, produced by Arthur Freed and scored by Lennie Hayton.
It was meant as a follow-up to Easter Parade (1948), under the title You Made Me Love You, but Garland's prescription drug addiction got in the way.
© Derek Winnert 2017 Classic Movie Review 6018
Check out more reviews on http://derekwinnert.com