The Ballad of the Sad Café ***½ (1991, Vanessa Redgrave, Keith Carradine, Rod Steiger, Austin Pendleton, Cork Hubbert, Beth Dixon) – Classic Movie Review 4371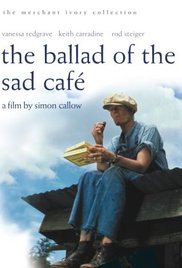 Director Simon Callow's 1991 British film version of Edward Albee's stage play adaptation of Carson McCullers's intensely moving novella is engrossing, intelligent, atmospheric and extremely well acted.
A battle of the sexes in the American rural Deep South of the early 20th century is an unusual vehicle for British actor Callow to choose for his film directing début. Nevertheless he goes boldly and confidently with strong control of camera (under cinematography Walter Lassally) and his distinguished players – Vanessa Redgrave, Keith Carradine, Rod Steiger, Cork Hubbert, Beth Dixon and Austin Pendleton.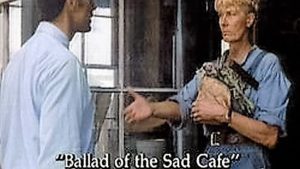 Redgrave stars as town eccentric Miss Amelia, who sells corn liquor and medicine. She takes in her half-sister's son, diminutive crook-back Lymon (Hubbert), who suggests opening café in her large house's downstairs. Carradine plays Marvin Macy, who gets out of prison and returns to town to pick up the pieces of his unconsummated marriage to Amelia.
Perhaps the Tennessee Williams-style stage material doesn't adapt too well to the screen, and the film requires some effort to watch as there is little traditional entertainment on show, and Redgrave's graphic no-holds-barred punch-up with Carradine in the café is a bit hard to take.
However, the material and Redgrave's electric star performance still shine through.
With the screenplay written by Michael Hirst, it is a Merchant-Ivory production for Film Four.
Also in the cast are Lanny Flaherty, Mert Hatfield, Earl Hindman, Anne Pitoniak and Frederick Johnson.
The original Broadway production of Albee's play opened at the Martin Beck Theater in New York on 30 October 1963 and ran for 123 performances.
One of the most important American writers, Edward Albee, three-time Pulitzer prize-winning playwright, died on September 16, 2016, aged 88. Though the author of dozens of caustic dramas, he will be remembered most for Who's Afraid of Virginia Woolf (1966).
© Derek Winnert 2016 Classic Movie Review 4371
Check out more reviews on http://derekwinnert.com