The Aviator *** (2004, Leonardo DiCaprio, Cate Blanchett, Kate Beckinsale, Alan Alda, Alec Baldwin) – Classic Movie Review 592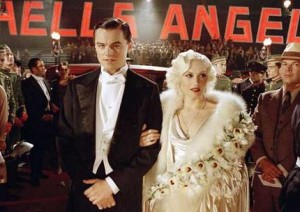 Director Martin Scorsese's patchy, rambling and overlong 2004 biopic of legendary film director and plane and movie mogul Howard Hughes is sometimes  hard work, and nothing new emerges. But it re-tells a story most people won't know any more and is redeemed considerably with a great star turn, fine support performances, eye-catching visuals and good moments throughout.
The film concentrates on his early years, opening with an obsessed Hughes directing one of Scorsese's favourite films, Hell's Angels (1930) and ending in 1946 as the still dashing Hughes is romancing gorgeous famous movie actresses.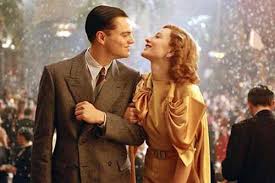 Clearly relishing his role, Leonardo DiCaprio takes flight as Howard Hughes. His crazy hatred of germs was matched by his mad love for women, including film stars Katharine Hepburn (Cate Blanchett, who gives more of a vocal impersonation than a performance) and Ava Gardner (Kate Beckinsale, miscast and struggling).
Though at 170 minutes, surprisingly, often just plain dull, Martin Scorsese's rich epic looks a treat, with its brilliant Thirties and Forties designs (production designer Dante Ferretti's sets are just stunning), glowing cinematography (by Robert Richardson) and fabulous costumes, and DiCaprio is a dynamic star.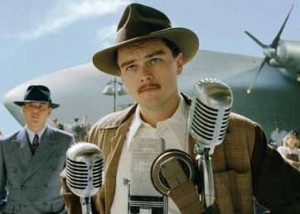 There are many highlights, such as Hughes's air crash, his descent into madness and his self-defence at the American Senate hearings where he's accused of fraud. Alan Alda gives the film's best turn as a corrupt politician, Senator Ralph Owen Brewster, though Alec Baldwin is super as the rival airline boss, Juan Trippe. Among other intriguing casting, Gwen Stefani plays Jean Harlow, Jude Law is Errol Flynn and Kelli Garner is Faith Domergue.
Even if it rarely soars and is never one of Scorsese's most fascinating movies, there is still a full cargo of tasty goodies aboard to enjoy.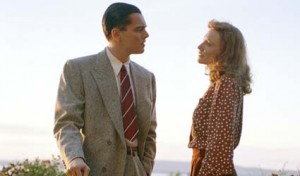 It did extremely well at awards time. It is the winner of five Oscars: best supporting actress (Cate Blanchett), art direction (art director Dante Ferretti, set decorator Francesca Lo Schiavo), cinematography (Robert Richardson), costume design (Sandy Powell) and editing (Thelma Schoonmaker). There were six other nominations.
It won four Bafta awards, including best film and supporting actress (Blanchett), and three Golden Globes, including best film, score and actor (DiCaprio). The London Film Critics handed Scorsese their director of the year award.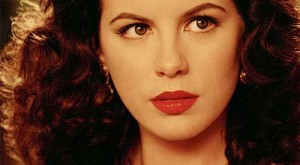 And it was a popular, too. It managed to take more than $100 million at the US box office, plus £8 million in the UK, though bizarrely it cost nearly $120 million to make.
For some reason, there are 18 credited producers on the production!
It's DiCaprio's second movie with Scorsese after Gangs of New York (2002), with The Wolf of Wall Street their fifth film together in 2013. It's DiCaprio's second Oscar nomination, after What's Eating Gilbert Grape (1993) and before Blood Diamond (2006) and The Wolf of Wall Street (2013). He finally won the Best Actor Oscar for The Revenant (2015).
Also in the cast are John C Reilly, Ian Holm, Danny Huston, Adam Scott, Matt Ross, Frances Conroy, Brent Spiner, Stanley DeSantis, Edward Herrmann, Willem Dafoe, Kenneth Welsh, J C MacKenzie, Nellie Sciutto, Vincent Laresca, Amy Sloan and Kevin O'Rourke.
© Derek Winnert 2013 Classic Movie Review 592 derekwinnert.com
Check out more reviews on http://derekwinnert.com