The Asphalt Jungle ***** (1950, Sterling Hayden, Louis Calhern, Sam Jaffe, James Whitmore, Jean Hagen, Brad Dexter, John McIntire, Marilyn Monroe) – Classic Movie Review 1351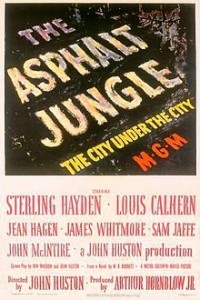 Co-writer/director John Huston's compulsively watchable, realistically staged classic 1950 film noir heist movie is a trail-blazing thriller with the criminal scam it focuses on invigoratingly portrayed as an inside tale from the crooks' angle. W R Burnett's source novel story is about a group of men planning and executing a jewel robbery.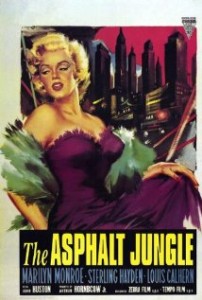 It was nominated for four Oscars, though won none, but it did win the Golden Lion at the Venice Film Festival, the 1951 BAFTA Best Film and three Golden Globes. Enjoyable and special in its own right, it is also memorable in instigating the crime thriller sub-genre of caper films, notably the 1955 French film classic Rififi.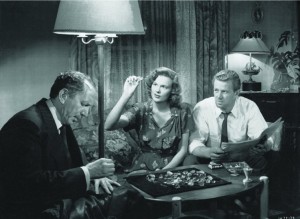 Sterling Hayden is the main star, but Sam Jaffe gives a rousing performance in his Best Supporting Actor Oscar-nominated role as the aged crime boss Erwin 'Doc' Riedenschneider, who's released from jail after seven years.
He wastes no time and immediately sets about to mastermind a final farewell jewel heist with the help (or maybe, it turns out, hindrance) of bookie Cobby (Marc Lawrence), high-profile lawyer Alonzo Emmerich (Louis Calhern) and three gang members he recruits. But a fatal mix of bad luck and double-crosses starts to cause the best laid plans to go awry.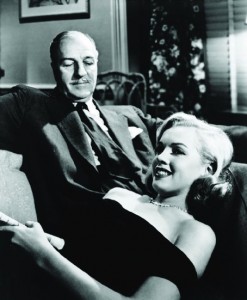 This Mob trio are safecracker Louie Ciavelli (Anthony Caruso), hunchbacked diner owner Gus Minissi (James Whitmore) and gunman Dix Handley (Sterling Hayden). Also among the splendid cast, Jean Hagen plays Doll Conovan who is in love with Dix, and the then unknown Marilyn Monroe has a minor but memorable role as Calhern's gangster's moll, Angela Phinlay.
Also in the cast are Brad Dexter, John McIntire, Teresa Celli, Dorothy Tree, Barry Kelley, John Maxwell, James Seay, Don Haggerty and Helene Stanley.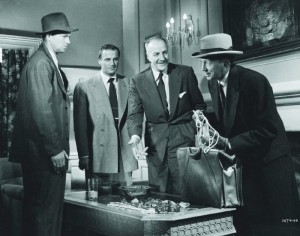 The Asphalt Jungle is tough toned for its day, helping to keep it current and modern. It was well received and is now accepted, indeed hailed as a classic, but it only barely scraped through as a box-office success, taking just over $1 million in the US and Canada and about the same overseas, resulting in a profit of just $40,000. Whew! The MGM studio bosses and the American official film censors disliked it, but in the end neither interfered significantly with the script.
W R Burnett's novel, adapted here by Huston and Ben Maddow, was eventually used three more times in various adaptations by MGM, who obviously eventually realised the value of it. All of them had different slants. One was the Western The Badlanders (1958), one was the Egypt jewel treasures heist caper Cairo (1963), and one was the Seventies blaxploitation movie Cool Breeze (1972)
The Asphalt Jungle has also been much used as a convenient template for mostly inferior heist movies, though The Sting and the Ocean's Eleven etc films graced the caper sub-genre.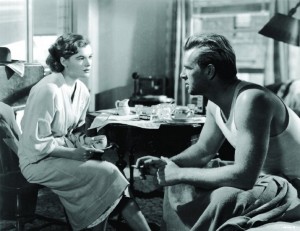 The influential and prolific Burnett contributed continuity and dialogue to the 1932 Scarface, the source novel for High Sierra (1941), the screenplay for This Gun For Hire (1942) and for The Great Escape (1963). Huston had worked with Burnett to adapt his High Sierra novel.
http://derekwinnert.com/the-sting-classic-film-review-790/
http://derekwinnert.com/oceans-eleven/
http://derekwinnert.com/this-gun-for-hire-1942-alan-ladd-veronica-lake-classic-film-review-1011/
http://derekwinnert.com/the-great-escape-classic-film-review-201/
http://derekwinnert.com/scarface-1932-classic-film-review/
© Derek Winnert 2014 Classic Movie Review 1351
Link to Derek Winnert's home page for more film reviews: http://derekwinnert.com/