The Angelic Conversation ***½ (1985, Paul Reynolds, Phillip Williamson, voice of Judi Dench) – Classic Movie Review 6398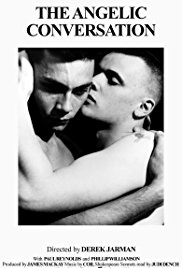 Derek Jarman's haunting 1985 experimental film is his interpretation of 14 William Shakespeare sonnets, eloquently read by Judi Dench, as the images show a young man seeking the man of his heart's desire.
Jarman chooses to abstract natural images – water, air, earth – and juxtapose male figures in weird and twisted landscapes that add a bizarre beauty to the lyricism of the words.  Jarman's free-flowing British Eighties renaissance film is poetry for the ears and eyes.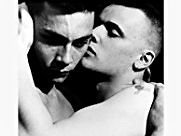 It runs 80 minutes, is made for Channel Four Films and the British Film Institute (BFI), is shot in black and white and colour by Derek Jarman, is produced by James Mackay and is scored by Coil.
It features Paul Reynolds, Phillip Williamson, Timothy Burke, Simon Costin, Christopher Hobbes, Toby Mott and Steve Randall.
It was made for £35,000 – if only they'd splashed out on proper budgets for Jarman's films! Couldn't Channel Four and the BFI have been more generous?
© Derek Winnert 2017 Classic Movie Review 6398
Check out more reviews on http://derekwinnert.com