The Alamo * (2004, Dennis Quaid, Billy Bob Thornton, Jason Patric, Patrick Wilson, Emilio Echevarría, Jordi Mollà, Leon Rippy, Marc Blucas) – 5055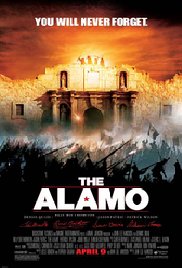 'One crowded hour of glorious life is worth an age without a name.' – Colonel William Travis.
Remember The Alamo? Well, not this version, anyway, for director John Lee Hancock 's misjudged, murky-looking and mostly boring 2004 film is a totally unmemorable remake of the 1960 John Wayne movie The Alamo without any of its excitement or spectacle.
It is an attempt to make a gritty, realistic 'modern' movie, but it just comes over as a dreary, old-style plod with a few unintentional giggles. Billy Bob Thornton, Jason Patric and Patrick Wilson are monotonous and uninspired as Texan reluctant heroes Davy Crockett, Jim Bowie and Colonel William Travis, whose tragic fate is to try to hold out against a vast, mighty Mexican force in 1836 Texas.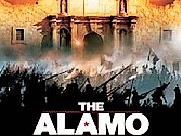 Just when his career had started to spark up again, Dennis Quaid gives an inanimate, unanimated and pompous performance that comes close to risible as Sam Houston, the founder of Texas, who finally defeated the Mexicans after The Alamo had fallen (and thus turning a famous tale of American defeat into a victory after all!).
Emilio Echevarría slices the ham as the Mexican dictator Antonio Lopez de Santa Ana, while Billy Bob's violin fiddling while The Alamo burns is a hysterical moment worthy of Monty Python. And, wow, this seems a long haul at two hours and 20 minutes! Even the sustained intense battle sequences are not exciting.
It was expensive – $107,000,000 – and unprofitable, taking only $22,406,000 in the US.
Jordi Mollà, Leon Rippy, and Marc Blucas are also in the cast. The writers are Leslie Bohem and Stephen Gaghan.
Unfortunately, bad movie are hard to forget, and, once seen, you indeed will never forget The Alamo.
John Lee Hancock redeemed himself with The Blind Side (2009), Saving Mr Banks (2013) and The Founder (2016).
© Derek Winnert 2017 Classic Movie Review 5055
Check out more reviews on http://derekwinnert.com