The Age of Shadows **** (2016, Byung-hun Lee, Yoo Gong, Kang-ho Song) – Movie Review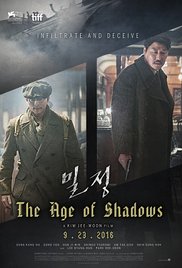 Writer-director Jee-woon Kim's 2016 South Korean thriller is tense, thrilling and beautifully staged and photographed, with a marvellous late-1920s period production.
The extended climactic action sequence on the train is a real, nail-biting humdinger. Based on a true story, it is a long, substantial, epic movie at 140 minutes, but engrossing all the way. It stars Byung-hun Lee, Yoo Gong, and Kang-ho Song.
The story is a deadly cat-and-mouse narrative as Japanese agents try to stop Korean resistance fighters bringing explosives from Shanghai to destroy key Japanese facilities in Seoul.
A Korean-born hero is caught between his present role as Japanese cop and his gut instinct to support a greater cause as a former member of the Korean independence movement.
It is notable as Warner Bros' first Korean production. Warner Bros' money is all up there on screen.
© Derek Winnert 2017 Movie Review
Check out more reviews on http://derekwinnert.com