The Adventures of Robin Hood ***** (1938, Errol Flynn, Olivia de Havilland, Basil Rathbone, Claude Rains) – Classic Movie Review 146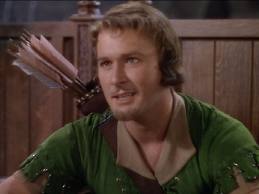 Eat your hearts out, Kevin Costner and Russell Crowe! This is simply the best. They can't make them like this any more.
Dashing, athletic and infectiously fun, Errol Flynn makes an ideal Robin Hood (even if he comes from Tasmania!) in joint directors William Keighley and Michael Curtiz's triumphant, classic 1938 movie version of the ancient Sherwood Forest legends.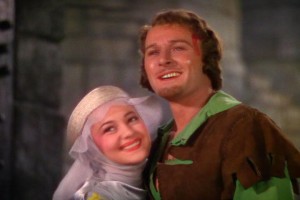 The good King Richard the Lionheart (Ian Hunter) is away fighting the Crusades, leaving his bad brother Prince John (Claude Rains) in charge. He and his Norman lords oppress the Saxon populace, until a rebel leader, Sir Robin of Locksley, comes along to save them.
Falling foul of the powers-that-be, Robin's forced to turn outlaw, assembles his band of Merrie Men, and becomes a socialist. Robbing from the rich and giving to the poor, he still has plenty of time to woo the lovely Maid Marian (Olivia de Havilland), fend off the rotten Sir Guy of Gisbourne (Basil Rathbone) and keep Prince John off the throne till Richard returns.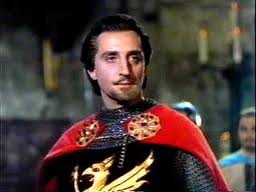 Excitement, danger and suspense are all in full supply in this marvellous historical action adventure, with a more than a dash of romance and comedy adroitly added into the mix. Supervised by Henry Blanke, it's a gift-wrapped Warner Brothers production from the old studio system under the control of the old movie mogul Jack L Warner.
It's perfectly cast with a great Hollywood golden era collection of actors. Flynn gracefully provides the heroics, de Havilland the fair beauty, and there are plenty of laughs from Alan Hale Sr's Little John, Eugene Pallette's vastly enjoyable Friar Tuck and Patric Knowles's Will Scarlett. Alan Hale makes the second of three appearances as Little John in Robin Hood films. He was also Little John with Douglas Fairbanks Sr in Robin Hood (1922) and with John Derek in Rogues of Sherwood Forest (1950).
Better still, Rains and Rathbone are the most memorable of cinema villains. Real-life expert swordsman Rathbone's epic climactic fencing duel with Flynn is fantastic – one of the best in cinema history. The Sir Guy character really assumes the role that the High Sheriff of Nottingham usually has in the movies, though the Sheriff (Melville Cooper) does appear, very much sidelined.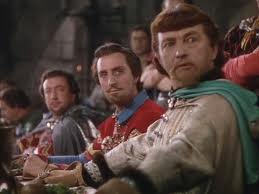 Erich Wolfgang Korngold's classic film score and Tony Gaudio and Sol Polito's gorgeous Technicolor cinematography are other dazzling highlights. This Hollywood high-adventure high-spot was nominated as Best Picture and won three Oscars for Korngold's score, Carl Jules Weyl's art direction and Ralph Dawson's editing. Still in currency, it was a 2004 winner for best DVD classic film release.
It was memorably shown outdoors on a huge 36ft by 48ft screen at London's Crystal Palace in 1991.
http://derekwinnert.com/robin-hood-1922-douglas-fairbanks-sr-enid-bennett-wallace-beery-alan-hale-sr-classic-movie-review-1792
© Derek Winnert 2013 Classic Movie Review 146
Check out more reviews on http://derekwinnert.com/