The Adventures of Priscilla: Queen of the Desert ***** (1994, Hugo Weaving, Guy Pearce, Terence Stamp) – Classic Movie Review 145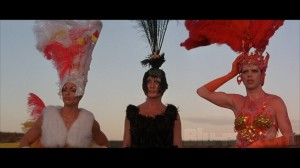 High on the list of sights I never thought I'd see in the cinema is Terence Stamp, British matinée idol darling of the 1960s, playing a crumpled, world-weary transsexual Sydney showgirl. But, after 100 years, the cinema is still full of surprises, and here's one more.
Stamp gives his best performance for years in the part of a lifetime in The Adventures of Priscilla: Queen of the Desert (1994). He's sharp, bitchy, witty, camp, sympathetic and utterly believable. The film's a real winner too and, like Strictly Ballroom (1992), it picked up the mass audience it deserved through that rarest of qualities: sheer, exuberant charm.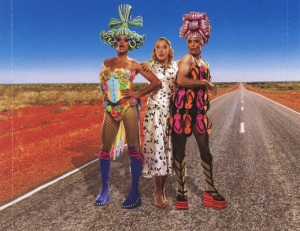 Talented writer/ director Stephan Elliott (who'd made Frauds starring Phil Collins in 1993) dreamt up a true original idea for the film while walking along Sydney's 'gay strip' after the annual gay and lesbian Mardi Gras. In his story mixing fun with a message, show-person Bernadette (Stamp) is persuaded by a couple of down-at-high-heel drag queens – versatile Hugo Weaving (who'd been a hit in Proof in 1990 with Russell Crowe) as Mitzi del Bra and the-then former Home and Away heartthrob Guy Pearce as Felicia Jollygoodfellow – to play a four-week gig at a resort hotel in Alice Springs in the hostile, heterosexist environment of Australia's red desert.
By the way, the 'queen of the desert' is a coach, the one the boys paint a lovely lavender and set off in with suitably camp music blasting on the stereo and a tasty assortment of gorgeous frocks, stilettos and padded bras. So, bus breaks down, boys get stranded, and are rescued by Aboriginals who luckily adore Gloria Gaynor's gay anthem 'I Will Survive'.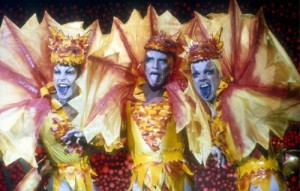 Naturally, because this is an upbeat movie the boys survive too, and find acceptance, love, success and a happy ending. But not before they vanquish the combined forces of prejudice, hostility, incomprehension and homophobia.
This accomplished, confident, and hugely admirable film is completely uncompromising. It doesn't have a nasty thought in its head (except about bigots and bigotry). And, despite all the outrageous fooling around, at heart it's essentially in deadly earnest.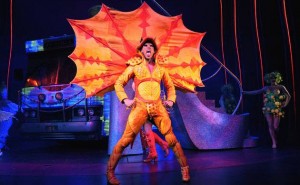 Apart from the actors, the biggest round of applause is due to Stephan Elliott. "Drag queens are like the last of the great Hollywood musicals,' he says. 'The style, the glamour, the pain has gone. The film was a great excuse to bring back the musical.'
And bring back Abba and the Village People too, though some would say they've never been far away. 'The three boys showed no fear,' Elliott adds. 'They saw this as a remarkable opportunity. One of the most beautiful men in the world (Stamp) was transformed into an attractive older woman.'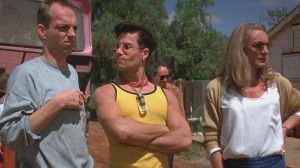 Stamp says it's his most challenging and illuminating part to date. "Normally when I am playing a role I respond in an intellectual way, but, playing Bernadette, my responses were almost completely emotional.' He's not much for women's clothes though. 'I wouldn't recommend trying to put on stockings with false nails.'
An Oscar-winner for best costume design (Lizzy Gardiner, Tim Chappel). Never has an Oscar been more truly deserved. A hit stage show eventually followed.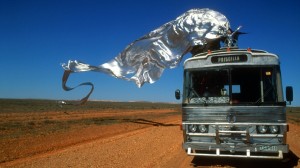 Elliott went on to make Eye of the Beholder (1999), Easy Virtue (2008) and A Few Best Men (2011), but has never repeated Priscilla's success.
http://derekwinnert.com/easy-virtue-2008-jessica-biel-ben-barnes-colin-firth-kristin-scott-thomas-kris-marshall-classic-movie-review-3033/
© Derek Winnert 2013 Classic Movie Review 145
Check out more reviews on http://derekwinnert.com