That's Entertainment, Part II ***** (1975, Fred Astaire, Gene Kelly, Elizabeth Taylor, James Stewart) – Classic Movie Review 6295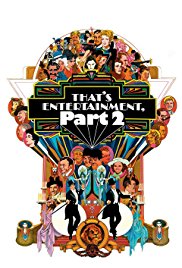 Director Gene Kelly's marvellously entertaining 1975 sequel to Jack Haley Jr's That's Entertainment! (1974) boasts some more all-time-great musical sequences from the MGM film library.
But this time it also includes some non-musical sequences, with key performers such as Greta Garbo and Robert Taylor in Camille, the Marx Brothers in A Night at the Opera, Laurel and Hardy, Clark Gable in Gone with the Wind, Buster Keaton, Spencer Tracy and Katharine Hepburn, Cary Grant in The Philadelphia Story, Jean Harlow in Dinner at Eight and Reckless, Hedy Lamarr in White Cargo, and Johnny Weissmuller as Tarzan.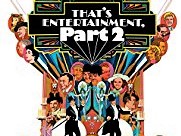 As well as this, there is tame but welcome new material filmed by Gene Kelly, who also appears as presenter and co-host, and even shuffles a few dance steps with his co-host, old Fred Astaire (in their first dance together for 30 years since Ziegfeld Follies in 1945). These films are the only two in which Kelly and Astaire danced together – talk about precious moments!
Even if the straight dramatic and comedy material sits uncomfortably with the musical sequences and there is a slight feeling that the best of the MGM archive material was used up for part one, there are many, many gems here from 75 movies, and this is an absolutely fabulous second treat for vintage musical buffs.
Elizabeth Taylor and James Stewart are also on-screen presenters.
The narration is written by Leonard Gershe, and the film is shot by George J Folsey, produced by Saul Chaplin and Daniel Melnick, and scored by Nelson Riddle.
It runs 133 minutes but there is also a 126-minute cut version.
Both Kelly and Astaire introduce clips of Cyd Charisse with the same dialogue: 'Cyd Charisse. Lovely Cyd Charisse. How she dances!'
It includes Fred Astaire, Jack Buchanan and Nanette Fabray (27 October 1920 – 22 February 2018) performing their standout classic musical number 'Triplets' from The Band Wagon (1953). Fabray also appeared in The Private Lives of Elizabeth and Essex (1939), The Subterraneans (1960), The Happy Ending (1969), Harper Valley PTA (1978), Amy (1981) and Teresa's Tattoo (1994).
That's Entertainment! III follows in 1994.
In Ziegfeld Follies (1945) Kelly and Astaire perform a comic ditty written by George and Ira Gershwin, The Babbitt and the Bromide, originally performed in the 1927 Broadway musical Funny Face by Fred Astaire and his sister Adele.
© Derek Winnert 2017 Classic Movie Review 6295
Check out more reviews on http://derekwinnert.com