Tetro **** (2009, Vincent Gallo, Alden Ehrenreich, Maribel Verdú, Carmen Maura, Klaus Maria Brandauer) – Classic Movie Review 4735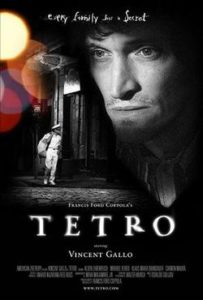 Writer / producer/ director Francis Ford Coppola's highly impressive 2009 film noir-infused emotional drama stars Vincent Gallo, Alden Ehrenreich and Maribel Verdú and tells the story of the reunion of two brothers. Coppola's screenplay follows the rivalries arising from the creative differences through generations of an artistic Italian immigrant family.
In an eye-opening cast, Vincent Gallo plays the protagonist Tetro, Alden Ehrenreich (in his debut at 20) plays Tetro's younger brother Bennie, Maribel Verdú plays Tetro's girlfriend Miranda, Carmen Maura plays Tetro's literary critic mentor Alone, and Klaus Maria Brandauer plays Tetro's father Alfie/Carlo Tetrocini.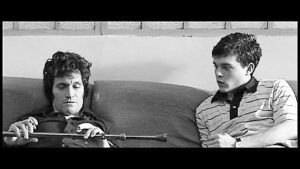 The story finds young cruise ship waiter Bennie, celebrating his 18th birthday, stopping off at Buenos Aires and seeking out his long-missing older brother Tetro, a burnt-out remnant of his former self as a once-promising writer, now living with Miranda. Bennie's discovery of his brother's unfinished play provides hope of understanding their shared past and of renewing their brotherly bond.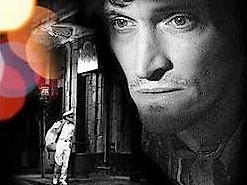 Gallo and Ehrenreich both give outstanding performances, cinematographer Mihai Mălaimare Jr's visuals are extremely striking, and the complex emotions mined in Coppola's screenplay make for a compelling, engrossing, first-rate art movie.
It was shot in 2008 in La Boca in Buenos Aires, the Andean foothills in Patagonia and at the Ciudad de la Luz studios in Alicante, Spain.
It was edited by Walter Murch using Final Cut Pro on Apple Mac computers in a large screen edit suite built by Masa Tsuyuki.

Alden Ehrenreich is to play the young Han Solo in a Star Wars prequel to be released in December 2018. He was first discovered by Steven Spielberg at a Bat Mitzvah and discovered for the movies by Coppola for Tetro and Twixt (2011).
© Derek Winnert 2017 Classic Movie Review 4735
Check out more reviews on http://derekwinnert.com