Tess **** (1979, Nastassja Kinski, Peter Firth, Leigh Lawson) – Classic Movie Review 4407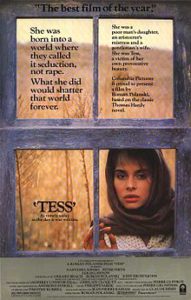 Co-writer/ director Roman Polanski delivers a rich, faithful, spirited and satisfying 1979 film version of the Thomas Hardy novel Tess of the D'Urbervilles. It was nominated for six Academy Awards including Best Picture and went on to win three Oscars and the Golden Globe for Best Foreign Film, as well as a Bafta for Best Cinematography.
Scoring a Golden Globe for New Star of the Year, Nastassja Kinski stars as the self-possessed, strong-willed  country girl Tess, who is descended from a noble line. She is raped and left pregnant by the suave aristocrat Alec d'Urberville (Leigh Lawson) and wronged by her parson husband, Angel Clare (Peter Firth).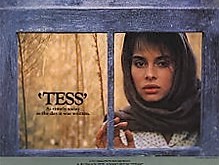 Kinski and Lawson are very handsome and effective, but the really impressive acting comes from Firth. And, although the story unfolds at a leisurely stroll rather than an exciting gallop, the photography, locations (in France), score (Oscar nominated Philippe Sarde), costumes and Polanski's story-telling combine perfectly to cast a potent spell. It is a true, old-style epic, running 186 minutes.
However, the film premiered in 1980 in the US at a re-edited length of 170 minutes, which is Polanski's approved version. The 170 minute cut was restored in 4K from the original negative under the supervision of Polanski, who attended its premiere at the 2012 Cannes Film Festival.
Also in the cast are John Collin, David Markham, Richard Pearson, Carolyn Pickles, Tom Chadbon, Sylvia Coleridge, Rosemary Martin, Tony Church and John Bett.
Polanski writes with his regular scenarist Gérard Brach.
Its three Oscars were for Best Cinematography (Geoffrey Unsworth posthumously, Ghislain Cloquet), Best Art Direction-Set Decoration (Pierre Guffroy, Jack Stephens) and Best Costume Design (Anthony Powell). Polanski won Césars for Best Film and Best Director and an Oscar nomination as Best Director. Cloquet alone won the César  for Best Cinematography.
Polanski dedicates Tess to his wife, Sharon Tate, who was killed in 1969 by the Manson Clan. It is set in England but had to be filmed in France, as Polanski was a wanted man in the US. It even includes a replica of Stonehenge.
Cloquet took over as director of photography from double Oscar-winner Unsworth, who died of a heart attack, aged 64, during the third month of shooting on 28 October 1978. It was Powell's third Oscar in a row.
It earned a very respectable $20 million in the US. The budget was $12 million.
© Derek Winnert 2016 Classic Movie Review 4407
Check out more reviews on http://derekwinnert.com