Tension **** (1949, Richard Basehart, Audrey Totter, Cyd Charisse, Barry Sullivan, William Conrad) – Classic Movie Review 2391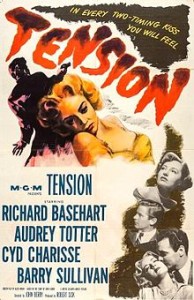 Director John Berry's 1949 film noir crime thriller stars Richard Basehart as timid, bespectacled Warren Quimby, a pharmaceutical expert who is night manager of the 24-hour Coast-to-Coast drugstore in Culver City. He elaborately plots to assume a fake identity and kill the boyfriend of his brassy, faithless wife, the sluttish Claire (Audrey Totter), when she walks out on him with rich Barney Deager (Lloyd Gough), who beats him up.
But the man is killed before he does the deed and then the cops, especially Police Lieutenant Collier Bonnabel (Barry Sullivan), suspect Quimby of the crime. Cyd Charisse (real name Tula Ellice Finklea) plays his new neighbour, beautiful, sweet Mary Chanler, whom Quimby starts dating. The police lieutenant tells the story in flashback, to show there is only one way to solve a case – by pressuring all the suspects till one of them snaps under the tension. William Conrad plays Police Lieutenant Edgar 'Blackie' Gonsales.
This pleasingly puzzling, film-noir-style thriller is propelled by its gripping plotline in Allen Rivkin's screenplay, based on a story by John D Klorer, and served up with plenty of moody atmosphere and delivered with intelligent playing. There is no doubt that it certainly lives up to its title in the suspense-delivering department.
Also in the cast are Tom D'Andrea, Tito Renaldo, Ray Bennett, Virginia Brissac, Peter Brocco, Jack Daley, Bert Davidson, Jack Davis, John Gallaudet, John Indrissano, Kitty McHugh, Mike Morelli, Stephen Roberts, Dewey Robinson, Tim Ryan, Carl Sklover, Hayward Soo Hoo, Ann Sothern, Philip Van Zandt and Tommy Walker.
This is an excellent example of the kind of movie they were making at the time but it was not a hit. If they are not making them like this any more, that might be because it lost the MGM studio $229,000.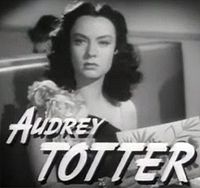 Audrey Totter died on , aged 95.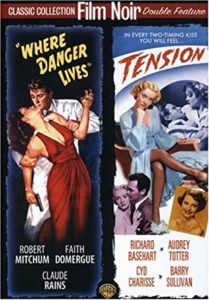 It is available on a Film Noir double-feature DVD with Where Danger Lives.
© Derek Winnert 2015 Classic Movie Review 2391
Check out more reviews on http://derekwinnert.com