Teenage Doll * (1957, June Kenney, Fay Spain, John Brinkley) – Classic Movie Review 4956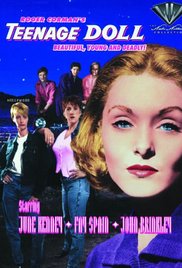 'This story is about a sickness, a spreading epidemic that threatens to destroy our very way of life. We are not doctors. We can offer no cure. But we know that a cure must be found.'
Producer-director Roger Corman's fairly rotten, cheap-looking 1957 film noir teen drama stars June Kenney as Barbara, a teenage doll high school girl getting a one way ticket to Hell when she links up with no-good no-hopers in a delinquent girls' gang called The Black Widows.
Fay Spain also stars as Helen, who kills another girl in a rumble and finds herself being chased by the rival gang that the dead girl belonged to. And you know that she is in trouble because they are called The Vandalettes.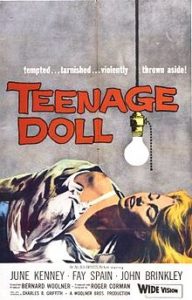 The original screenplay is by Charles B Griffith, based on one he already had called The Rat Pack, which he quickly adapted to feature a girl gang, though he had to rewrite the script over the weekend when the US Censorship Office rejected the story.
Also in the cast are John Brinkley as Eddie Rand, Richard Devon, Dorothy Neumann, Colette Jackson as May, Barbara Wilson as as Betty Herne, Ziva Rodann, Ed Nelson as Police Officer 'Dutch', Sandy Smith, Barboura Morris as Janet, Jay Sayer, Richard H Cutting, Bruno VeSota as Témoin, Paul Bryar, Abby Dalton and Damian O'Flynn.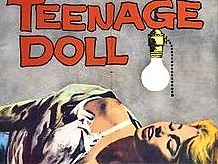 Corman recalled: 'It was made for a group of New Orleans theatre owners who had a specific story line they wanted shot. I filmed it in 10 days and it did all right at the box office. The only thing I remember about it with fondness is that I had a lot of fun photographing the final sequence in a junkyard. We shot a lot of the film at night and ran into the usual location problems with neighbours.'
The ever-resourceful Corman turned trouble into his advantage when shooting outside in a suburban neighbourhood and one of the neighbours turned on the sprinkler system hoping Corman would pay him to turn it off. But Corman used it as a rain scene, which worked out better for the film.
It was released in a double bill with with Undersea Girl.
© Derek Winnert 2017 Classic Movie Review 4956
Check out more reviews on http://derekwinnert.com