Teenage Caveman * (1958, Robert Vaughn, Darah Marshall, Leslie Bradley, Frank DeKova) – Classic Movie Review 4954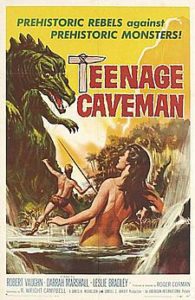 A well-groomed young Robert Vaughn looks out of place as a Teenage Caveman in producer-director Roger Corman's cheap-looking (on a $70,000 budget), quickly made (in two days apparently!) 1958 black-and-white science fiction/ horror/ adventure movie set in a post-apocalyptic world.
In the screenplay by R Wright Campbell, a gang of teenagers leaves their tribal life behind to venture beyond the river to the other side, where they meet quicksand and a few silly creatures, and fall   in with a hedonistic couple.
With bad acting and poor workmanship, it is hardly classy in any way. But, with its serious-minded undercurrents, it's all quite funny, though. Vaughn might be young but he is not young enough playing a teenager at the age of 26! There is nothing wrong with his taste though. He said it was the worst film ever made.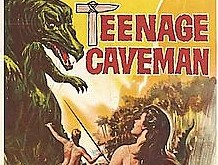 The characters don't have character names as such: Vaughn stars as The Symbol Maker's Teenage Son, Darah Marshall plays The Blonde Maiden, Leslie Bradley stars as The Symbol Maker, and Frank DeKova plays The Black-Bearded One.
Also in the cast are Charles P Thompson as Member of the Tribe, June Jocelyn as The Symbol Maker's Wife, Jonathan Haze as The Curly-Haired Boy, Beach Dickerson as The Fair-Haired Boy, Ed Nelson as Blond Tribe Member, Robert Shayne as The Fire Maker, Marshall Bradford as Member of the Tribe, Joseph H Hamilton as Member of the Tribe, Stephanie Shayne as Young Tribe Member and Barboura Morris as Young Tribe Member.
Paul Blaisdell is the designer for the beastman costume. It is shot by Floyd Crosby and scored by Albert Glasser. Corman regular actor Beach Dickerson not only plays The Fair-Haired Boy who drowns in quicksand, he is also the stranger riding in as the Man from Burning Plains, the bear that attacks the hunting party, and even plays the Tom-Tom Player, a drummer during the funeral for his own character!
It was released in cinemas in July 1958 a double bill with How to Make a Monster.
It is aka I Was a Teenage Caveman, Out of the Darkness (in the UK) and Land of Prehistoric Women (till the title was changed by distributor American International Pictures).
Lionsgate released it on DVD on 18 April 2006, together with Viking Women and the Sea Serpent
It was remade in 2001 by Larry Clark, starring Andrew Keegan, Jeffrey Pritz and Tara Subkoff.
© Derek Winnert 2017 Classic Movie Review 4954
Check out more reviews on http://derekwinnert.com