Tea with Mussolini **** (1999, Maggie Smith, Judi Dench, Joan Plowright, Cher, Lily Tomlin, Baird Wallace, Claudio Spadaro, Michael Williams) – Classic Movie Review 107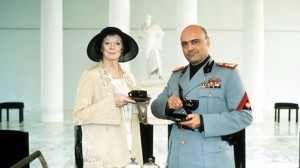 This splendid 1999 film is a lightly fictionalised version of Italian director Franco Zeffirelli's true-life story, which starts in pre-World War Two Fascist Italy, when, as a boy, he is befriended by a group of redoubtable English ladies, known as the Scorpioni (Scorpions) because of their sharp tongues. The illegitimate son of an absent Italian businessman, he is brought up by an English woman after his mother dies.
It opens in Florence in 1935, with Lady Hester (Maggie Smith) ruling the roost of English widows and divorcees who live a life of perfect luxury in the Tuscan sunshine and feel that they will have no problem at all coming to terms with the Italian dictator Benito Mussolini, Il Duce.
They are pretty clever, generally, but boy did they get that wrong! When war breaks out, instead of getting back to England, the ladies are shocked to find that they are interned but think they can sort out all their problems in Florence if they can explain everything to Mussolini over tea.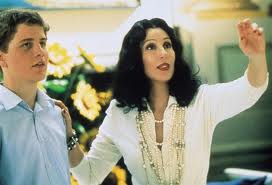 Quite simply, this is a lovely story, marvellously told.
It is extremely well done in exquisite performances by the doyenne English actresses (Smith, Judi Dench as Arabella, Joan Plowright as Mary Wallace), as well as by Cher as an initially arrogant but later sympathetic American woman called Elsa Morganthal Strauss-Armistan, a rich collector of modern art who sometimes comes over to visit them, and Lily Tomlin as another transatlantic interloper, Georgie Rockwell.
It says a lot that Cher has no difficulty holding her own against the scene-stealing Brit performers. The handsome 18-year-old American Baird Wallace charmingly plays the boy, called Luca, here.

And it is extremely well done by Zeffirelli, too, in best nostalgic, glowing form but still with a sharp, bitter edge, rightly relishing it all, the memories of the good and bad days, the good and bad people. Appropriately, there is a scorpion sting in there somewhere.
Zeffirelli is fortunate to be working from an ideal screenplay by John Mortimer (Rumpole) that is both witty, funny, playful, informative and touching. In a way, it is a bit like a riveting history lesson by a really great teacher who happened to be around when history was being made.
Entertaining, appealing and very affecting, this is a joy. It is one for connoisseurs of sharp nostalgia to relish and I hope it is your cup of tea. David Watkin's gorgeous cinematography of the idyllic Tuscan locations makes you want to book a flight there immediately. On the other hand, you don't have to: you can just watch the film.
Claudio Spadaro plays Mussolini. Dench's husband Michael Williams plays the British consul in Florence. (in his last cinema film before his death in 2001).
Though kind of starring, Smith won the BAFTA Film Award for Best Performance by an Actress in a Supporting Role.
Zeffirelli's actual true-life story is told in his indispensable 1986 book Zeffirelli: An Autobiography, updated in 2006. Wallace graduated Columbia University with a BA in film studies in 2004. Arabella's dog is actually Zeffirelli's. The battle scenes look good because they are borrowed from A Bridge Too Far (1977).
© Derek Winnert 2013 Classic Movie Review 107
Check out more reviews on http://derekwinnert.com