Taza, Son of Cochise *** (1954, Rock Hudson, Barbara Rush, Gregg Palmer) – Classic Movie Review 6304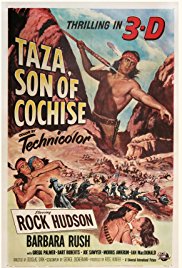 Director Douglas Sirk's 1954 3D Western is his sole trip out West. It is a follow-up to 1950's Broken Arrow with the star of that film, Jeff Chandler (again playing the Apache chief Cochise), staying around merely for a big cameo moment to meet his ancestors.
In the days when actors were bizarrely cast against type, Rock Hudson (aka Roy Harold Scherer Jr) plays Cochise's pacifist son Taza, who succeeds him. Taza will not heed the counsels of the hawkish Geronimo (Ian MacDonald) and clashes with his own war-mongering brother Naiche (Rex Reason, then credited as Bart Roberts).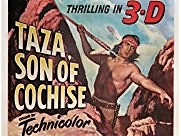 The movie is lifted out of the rut of Fifties Westerns by the good fighting sequences, Russell Metty's extremely handsome Technicolor 3D cinematography, Sirk's cinematic brio and the understanding view of the Native American shown in George Zuckerman and Gerald Drayson Adams's screenplay. Oddly, it was Sirk's favourite of his American movies.
Also in the cast are Barbara Rush as Taza's betrothed Oona, Gregg Palmer as Captain Burnett, Morris Ankrum as Grey Eagle, Eugene [Gene] Iglesias as Chato, Joe Sawyer, Richard H Cutting, Robert Burton, Lance Fuller, Bradford [Brad] Jackson, James Van Horn, Charles Horvath, Robert F [Bob] Hoy, Barbara Burc, Dan White, Seth Bigman, Boyd Bowers, John Kay Hawks, William Leslie and Edna Parrish.
It is produced by Ross Hunter, scored by Frank Skinner, and designed by Bernard Herzbrun and Emrich Nicholson.
Chandler also played Cochise in 1952's Battle at Apache Pass.
© Derek Winnert 2017 Classic Movie Review 6304
Check out more reviews on http://derekwinnert.com