Tangerine *** (2015, Kitana Kiki Rodriguez, Mya Taylor, Karren Karagulian, Arsen Grigoryan, Clu Gulager) – Movie Review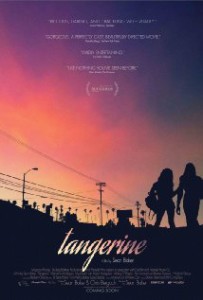 Kitana Kiki Rodriguez stars as Sin-Dee, a transgender prostitute just out of jail, who finds out from her best friend Alexandra (Mya Taylor) that her pimp boyfriend has been unfaithful. So Sin-Dee tears through Tinseltown on Christmas Eve searching for revenge on the man who broke her heart.
Its great that director Sean Baker, filming on iPhones, gives such a warm, sympathetic portrait of life's outsiders. Baker and his two star actresses take no prisoners. That's great. But it is unfortunate that its portrait of an Armenian cabbie (Arsen Grigoryan) and his family is very oppressive. Though, shamefully, it is also wickedly funny.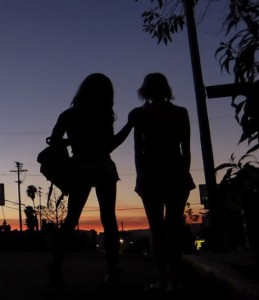 Also unfortunate is that the film begins almost unbearably with just a load of unfocused babble, possibly propelling most people to want to rush out of the cinema. But, wait! Half an hour in, the iPhones focus and the movie starts to make sense, bite, and involve. And there's a great portrait of low life in Hollywood here, a real walk on the wild side that the movie business normally doesn't explore. And it's above all a very warm, sympathetic portrait of LA's transgender community. For that, many thanks.
It's surprising but good to find veteran actor Clu Gulager in this company as The Cherokee, while Josh Sussman plays Retch Chunder, so that's nice.
© Derek Winnert 2015 Movie Review
Check out more reviews on http://derekwinnert.com