Tanganyika ** (1954, Van Heflin, Howard Duff, Ruth Roman, Jeff Morrow) – Classic Movie Review 6683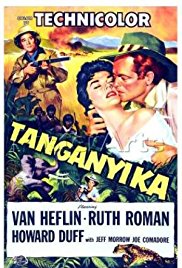 Director André De Toth [deToth]'s 1954 Technicolor movie Tanganyika is a moderate but fairly engaging action adventure film starring a capable quartet of interesting players in Van Heflin, Howard Duff, Ruth Roman and Jeff Morrow.
Heflin plays a tough colonial adventurer called John Gale who stakes a land claim in British East Africa in 1903. But he then finds he has to lead a safari to deal with a vicious escaped killer named Abel McCracken (Morrow), who is on the run, threatening his land holdings and frightening the Nukumbi tribe natives. Gale befriends a quartet of survivors – hunter Dan Harder (Duff), former teacher Peggy Marion (Roman) and two children.
Based on a story by William R Cox, this is a film of stodgy, creaky, antique-feeling dramatics, damped by the hero's romantic interludes with Roman's Peggy, but sparked a bit by the whodunit subplot.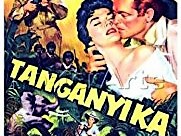 The actors' occasional look of boredom is sometimes sparked up by panic on being confronted by some virtually unspeakable dialogue in the rather ropey screenplay by Richard Alan Simmons and William Sackheim.
Also in the cast are Joe Comadore, Noreen Corcoran, Gregory Marshall, Neaman Brown, Edward C Short and Murray Alper.
Tanganyika runs 81 minutes, is a Universal film, is shot by Maury Gertsman, is produced by Albert J Cohen and scored by Jester Hairston.
© Derek Winnert 2018 Classic Movie Review 6683
Check out more reviews on http://derekwinnert.com