Tammy, Tell Me True ** (1961, Sandra Dee, John Gavin, Charles Drake, Virginia Grey, Beulah Bondi) – Classic Movie Review 5513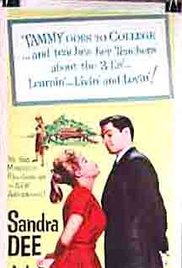 Director Harry Keller's 1961 follow-up film to the first hit Tammy and the Bachelor has Sandra Dee taking over from Debbie Reynolds as kind-hearted Tammy Tyree as she smirks and schmoozes her way through college, where she is soon flirting outrageously with handsome teacher Tom Freeman (John Gavin).
It proves rough hewn, very icky and bumpy escapist romantic comedy entertainment, with little relation to real life and much more to Fifties TV sitcoms. The dated heroine seems to be on remote control spreading a little happiness as she goes along her sweet and jolly way.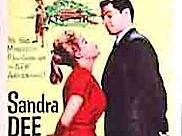 Beulah Bondi helps as Mrs Call, the rich old lady who befriends Tammy. Also in the extravagantly starry cast are Charles Drake, Virginia Grey, Julia Meade, Cecil Kellaway, Edgar Buchanan, Gigi Perreau, Juanita Moore, Hayden Rorke, Billy Mumy and Stefanie Powers, with Ward Ramsey, Henry Corden, Don Dorrell and Pat McNulty.
Bondi returns as Mrs Call in the sequel, Tammy and the Doctor (1963), with Dee  also back as Tammy. Dee and Bondi also appear together in A Summer Place (1959).
Gavin had just starred in the rather different Psycho (1960).
The theme song Tammy, Tell Me True, written by Dorothy Squires and sung by Dee, was a hit of the day.
It runs 97 minutes, is released by Universal, is written by Oscar Brodney, is shot in Eastmancolor by Clifford Stine, is produced by Ross Hunter and is scored by Percy Faith.
© Derek Winnert 2017 Classic Movie Review 5513
Check out more reviews on http://derekwinnert.com