Talladega Nights: The Ballad of Ricky Bobby *** (2006, Will Ferrell, John C Reilly, Sacha Baron Cohen, Gary Cole, Michael Clarke Duncan, Pat Hingle, Leslie Bibb, Jane Lynch, Amy Adams) – Classic Movie Review 4185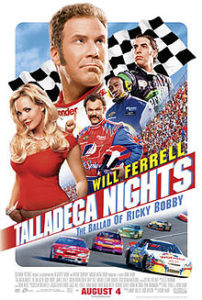 By 2016, Will Ferrell and John C Reilly have only made two movies together: 2006's uneven Talladega Nights: The Ballad of Ricky Bobby and 2008's riotous Step Brothers. Director Adam McKay's freewheeling satirical sports comedy Talladega Nights is written by McKay and Ferrell. It is generally funny but, like a car that needs a service, it does have the disadvantage of stalling from time to time and running out of gas.
Ferrell stars as number one NASCAR driver Ricky Bobby stays on top thanks to a pact with his best friend and teammate, Cal Naughton, Jr (John C Reilly). Ferrell and Reilly are very funny and a lot of the gags are skillful and clever. But the uneven (and rancid) bit comes on when Sacha Baron Cohen enters as openly gay competing French Formula One driver Jean Girard, driving his career in top gear, testing Ricky Bobby sorely as Bobby's arch-rival. Cohen, of course, is happy to insult French and gay people gleefully.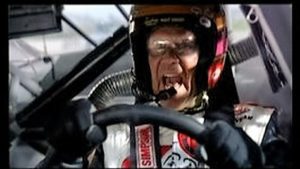 Leslie Bibb also stars as Ricky Bobby's wife Carley, with Jane Lynch as his mom Lucy Bobby, Gary Cole as Ricky's father Reese Bobby, Amy Adams as Susan, Bobby's assistant and eventual love interest. Andy Richter as Girard's gay partner Gregory, and director Adam McKay as Terry Cheveaux, an apathetic driver whom Bobby replaces. Pat Hingle plays Larry Dennit Sr, original owner of Bobby's team, in his last film before his death in 2009. There are excellent performances from the fine ensemble cast.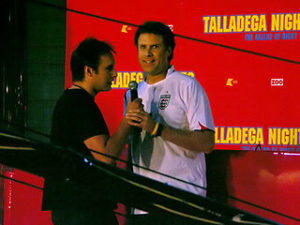 Also appearing are Greg Germann as Larry Dennit Jr, the new owner of Dennit Racing, Molly Shannon as his alcoholic wife, Ted Manson as Bobby's father-in-law, Rob Riggle as Speed Channel commentator Jack Telmont, and Elvis Costello and Mos Def as guests at Girard's party.
Andy Hillenburg's Fast Track Enterprises and K4 Motorsports provide the race cars, hauler transportation and stunt coordination.
Making cameos are NASCAR drivers Jamie McMurray and Dale Earnhardt Jr , as well as broadcasting teams from NASCAR on Fox (Mike Joy, Larry McReynolds and Darrell Waltrip) and NASCAR on NBC (Bill Weber, Wally Dallenbach Jr and Benny Parsons).
The costly to make ($73 million) film was a huge hit in North America, grossing $148 million, but not in the rest of the world, where it took less than $15 million.
Finally a third is planned for Ferrell and Reilly: Holmes and Watson.
© Derek Winnert 2016 Classic Movie Review 4185
Check out more reviews on http://derekwinnert