Take Me Out to the Ball Game **** (1949, Frank Sinatra, Esther Williams, Gene Kelly, Betty Garrett, Jules Munshin) – Classic Movie Review 5900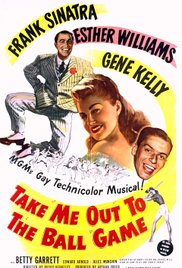 Director Busby Berkeley's 1949 MGM musical about the misadventures of a baseball team that features the noted ball-playing skills of shortstop Frank Sinatra and second baseman Gene Kelly is a whole lot of good fun.
Conveniently for the musical, baseball players Dennis Ryan (Sinatra) and Eddie O'Brien (Kelly) work in vaudeville during the off-season. Lovely Esther Williams (on dry land for once, though she does get one chance to show off her swim costume) plays K C Higgins, who faces resentment when she takes over the team but soon finds herself falling in love.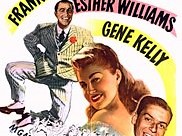 With the story by Gene Kelly and Stanley Donen, and the screenplay written by Harry Tugend and George Wells, the plot remains strictly routine. But the lovely performers, snappy musical numbers like The Right Girl', 'Yes Indeedy', 'O'Brien To Ryan To Goldberg' and 'The Hat My Father Wore on St Patrick's Day', the bright Technicolor cinematography by George J Folsey, and smooth, lively direction from Berkeley help make this an evergreen hit.
It is the genius choreographer Berkeley's last job of overall direction.
It was called Everybody's Cheering in GB.
Also in the cast are Betty Garrett, Jules Munshin, Edward Arnold, Richard Lane, Tom Dugan, Murray Alper, Wilton Graf, Charles Regan, Mack Gray, Douglas Fowley, Eddie Parkes and James Burke.
Gene Kelly, Frank Sinatra, Betty Garrett and Jules Munshin all re-convened for the much better known On the Town.
© Derek Winnert 2017 Classic Movie Review 5900
Check out more reviews on http://derekwinnert.com