Sweet Dreams **** (1985, Jessica Lange, Ed Harris, Ann Wedgeworth) – Classic Movie Review 5181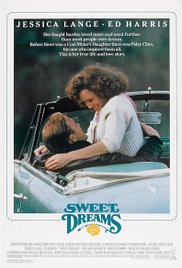 Director Karel Reisz's 1985 biopic stars the highly estimable Jessica Lange, who impersonates Fifties country singer Patsy Cline (and mimes to her recordings) in one of the best performances of her career in an extremely well-acted, superior biopic.
Lange's absolutely excellent performance is matched by that of Ed Harris as Cline's menacing, ne'er-do-well husband, the perfectly named Charlie Dick, and Ann Wedgeworth as her mother, Hilda Hensley. Lange was Oscar nominated as Best Actress.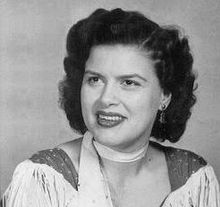 The story of Cline's rise from poverty to stardom, marriage problems and early death in a plane crash on 5 March 1963 at the age of just 30 is the stuff of high-end soap opera. But the movie is strongly directed by Reisz, persuasively written by Robert Getchell, convincingly and appealingly acted and well handled all round. The music is a superb treat for country fans of course. However, Getchell's screenplay takes many inexplicable liberties with the facts, including the reasons for and circumstances of the plane crash.
Also in the cast are David Clennon, James Staley, John Goodman, P J Soles, Gary Basaraba, Jerry Haynes and Boxcar Willie.
In case you are wondering about the title, Cline's hits began in 1957 and ended in 1963 with Don Gibson's 'Sweet Dreams'.
Lange lip-synced throughout to the original Patsy Cline recordings. The soundtrack was released in September 1985.
Scenes were shot at Fort Campbell, Kentucky, Nashville, Tennessee, and Martinsburg, West Virginia.
Meryl Streep sought to play Cline but was turned down by Lange fan Reisz.
Despite good reviews, especially for Lange's performance, the film was not a hit, costing $13.5 million and taking only $9 million at the box office.
Beverly D'Angelo plays singer Patsy Cline in director Michael Apted's sterling 1980 biopic Coal Miner's Daughter (1980), for which Sissy Spacek won a Best Actress Oscar and a Golden Globe, impressively doing her own singing, unlike Jessica Lange here.
© Derek Winnert 2017 Classic Movie Review 5181
Check out more reviews on http://derekwinnert.com