Swamp Women ** (1956, Carole Mathews, Beverly Garland, Mike Connors, Marie Windsor, Susan Cummings) – Classic Movie Review 3979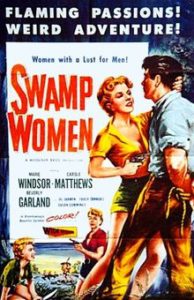 Three women break jail and head for a Louisiana swamp to find a stash of stolen diamonds, and pinch the boat of geologist Bob Matthews (Mike Connors, aka Touch Conners). But things go wrong when Josie (Marie Windsor), Vera (Beverly Garland) and Marie (Susan Cummings) unwittingly pick up undercover police woman undercover police officer Lieutenant Lee Hampton (Carole Mathews) along the way.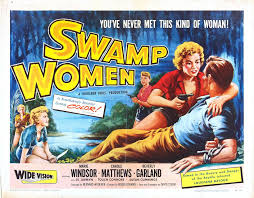 With its unusual, well-formed plot in the screenplay by David Stern, this 1956 movie is a creaky but interesting early Roger Corman crime thriller, with a robust tone and an accent on women that was rare at the time.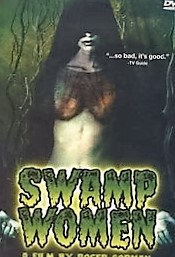 Shooting the whole film on a typically tight budget in just 10 days, in colour (Eastmancolor) and on location (Bayou Lacombe, Louisiana) too, Corman recalls: 'This was the first movie that I made that really used the Corman crew. They were a small group of people beginning to come together who would become regulars on all my films. We were one creative force.'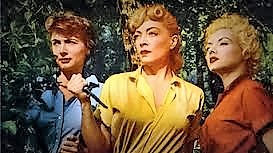 Also known as Cruel Swamp or Swamp Diamonds, it is listed in the 1978 book The Fifty Worst Films of All Time (And How They Got That Way) by Harry Medved and Randy Lowell. When there are so many bad movies out there, I can't for the life of me think why it could be one of The Fifty Worst Films of All Time. It may not be great, but it is certainly worth a little look.
Also in the cast are Jil Jarmyn, Jonathan Haze, Lou Place and Ed Nelson.
It is now in the public domain and released on DVD by multiple companies.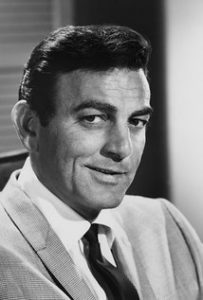 Mike Connors (aka Krekor llevado Ohanian) died on January 26, 2017, aged 95.
© Derek Winnert 2016 Classic Movie Review 3979
Check out more reviews on http://derekwinnert.com