Superman Returns ** (2006, Brandon Routh, Kevin Spacey, Kate Bosworth, James Marsden, Frank Langella, Sam Huntington, Parker Posey, Eva Marie Saint) – Classic Movie Review 1433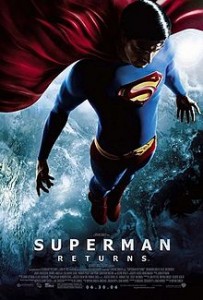 Co-producer/director Bryan Singer dropped out of X-Men: The Last Stand (2006) for the chance to make the 2006 Superman reboot, but this proves a bad idea as the movie is a lacklustre disappointment. In the story, a sequel to Superman (1978) and Superman II (1980), Superman returns to Earth after a five-year absence and finds Lois Lane has moved on with her life but that it is business as usual with Lex Luthor.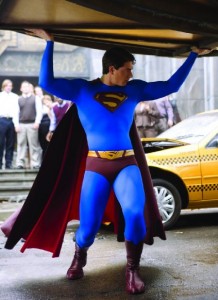 Never once putting himself forward as a suitable replacement for the admittedly irreplaceable Christopher Reeve, Brandon Routh keeps up the lacklustre disappointment theme as Superman/Clark Kent, and so, surprisingly does Kevin Spacey as his nemesis, the arch-villain Lex Luthor, who is plotting a scheme that will destroy him and the world. If they make a weak impression, Kate Bosworth makes no impression at all as Superman's love interest Lois Lane, though the part is a feeble one and feeble written here too. Amusingly though, Lois has won a Pulitzer Prize for her article Why the World Doesn't Need Superman.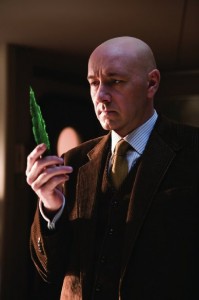 Despite all the obvious work and money (it cost an incredible $204million) that has clearly gone into Superman Returns, the story, visual effects and directorial style are all mediocre when they need to be astounding. All three star performances are charisma-challenged. Spacey's just rather embarrassingly arch and camp, but then what can you do with the Lex Luthor role? It defeated Gene Hackman in the originals too. James Marsden (as Richard White), Frank Langella (as Perry White), Sam Huntington (as Jimmy Olsen), Parker Posey (as Kitty Kowalski) and Eva Marie Saint (as Martha Kent) also star though none of these good performers are seen at their best here either.
Principal photography took place at Fox Studios Australia, Sydney, while the visual effects sequences were created by a number of studios, including Sony Pictures Imageworks, Rhythm & Hues, Framestore in London, Rising Sun Pictures, and The Orphanage.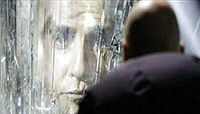 Eerily, the late Marlon Brando appears in the film in a digital recreation as Jor-El, his role in the original Superman (1978). This is well meant as an homage, but comes over as a mistake.
Superman Returns: An IMAX 3D Experience was released simultaneously in 111 IMAX cinemas worldwide. This version includes 20 minutes of converted 3D film footage that is a huge help to the movie, though it begs the question why they didn't film it all in 3D.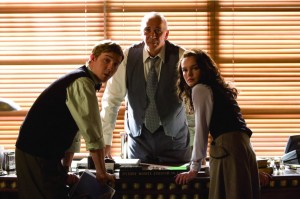 There were no test screenings to gauge public reaction but Singer showed his cut to some of his trusted associates, then removed 15 minutes of footage, so the theatrical running time is 154 minutes. One of the key scenes Singer deleted was the Return to Krypton, which cost $10 million to film.
It was nominated for the Academy and BAFTA Awards for Visual Effects, but lost to Pirates of the Caribbean: Dead Man's Chest, a film that helped Superman's second week gross into a rapid declined from the first week. Bosworth was nominated a Razzie Award for Worst Supporting Actress.
Warner Bros was disappointed with the $391 million worldwide box office return and cancelled their intended summer 2009 sequel. But Superman was rebooted again in 2013 with Zack Snyder's Man of Steel starring Henry Cavill, this time successfully.
At 2006 Comic-Con International, Singer blamed poor marketing and promotion for the film's lacklustre performance at the box office. 'A lot of people did their job, and a lot didn't,' he said. Warner Bros president of production Jeff Robinov said: 'Superman Returns didn't quite work as a film in the way that we wanted it to. It didn't position the character the way he needed to be positioned.'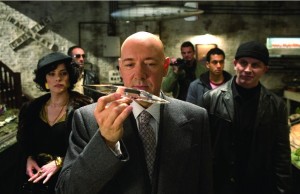 Taking into account the development costs since the early 1990s, total expenditure is estimated to be around $263 million, with up to a further $100 million spent on worldwide marketing. So they were still in profit, just on the cinema release.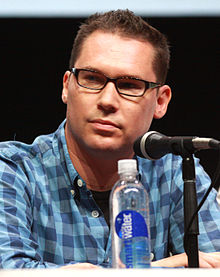 Singer went on to direct Valkyrie (2008) and Jack the Giant Slayer (2013) and return to the X-Men franchise with X-Men: Days of Future Past in 2014.
http://derekwinnert.com/superman-classic-film-review-522/
http://derekwinnert.com/man-of-steel-film-review/
http://derekwinnert.com/jack-the-giant-slayer-review/
http://derekwinnert.com/x-men-days-of-future-past-2014-hugh-jackman-jennifer-lawrence-movie-review/
© Derek Winnert 2014 Classic Movie Review 1433
Check out more reviews on http://derekwinnert.com/