Sunshine on Leith *** (2013, George MacKay, Kevin Guthrie, Peter Mullan, Jane Horrocks, Paul Brannigan, Freya Mavor) – Movie Review

Two Scots soldiers coming home from serving in Afghanistan link arms and dance and sing along the streets of Edinburgh's old town. How gay is that? If you're not expecting a musical, or if you're imagining a hard-man movie set in Edinburgh's dock area, it's all quite a shock.

The actor Dexter Fletcher surprisingly follows up his tough 2011 directorial debut Wild Bill with a musical, based on the stage hit, with songs by 80s pop-folk band The Proclaimers. It all builds to its big climax, which somehow you know from the beginning that inevitably it is going to be their famous chart success number 500 Miles.

Obviously Fletcher knows all about actors, who to hire and how to direct them. 'Realist' it may be, at least for a musical, but it's decidedly a showbiz affair. Fletcher has assembled an outstanding cast, headed by George MacKay (from London) and Kevin Guthrie (from Paisley) as soldiers Davy and Ally, who have to re-learn how to live life in Civvy Street, struggle with family, jobs and relationships.
Both actors look right and are very good indeed, rock solid with the acting, singing and dancing, and throwing everything they know into it.

Although better still are the much more experienced Peter Mullan (a true Scot from Peterhead) and Jane Horrocks (from Lancashire) as Rab and Jean, the parents, happily married until troubled by a spectre from Rab's past. Mullan is truly excellent, as always, having a great result by bringing low-key power and pathos. Horrocks is strong, especially musically, even if she seems slightly overwhelmed by her Scots accent. They are both quite appealing. Just as well, for the show gives them lots to do.

Antonia Thomas, Freya Mavor and Emma Hartley-Miller are dandy and tuneful with plenty to do in support as Yvonne, Liz and Janice. Fletcher's pal Jason Flemyng doesn't have much to do. He just pops in for a quick jolly song and dance, probably not his forte.

It's all going to depend on whether (1) you like musicals, (2) you like The Proclaimers songs and (3) you go for this very non-Hollywood idea of a movie musical, a multi-story drama with folks suddenly bursting into song. As a musical, it's not daft, camp and escapist, or outrageous fun, like Mamma Mia! It's the kind of musical the French would enjoy, like The Umbrellas of Cherbourg, say.
It's got 'real' characters, with 'real' situations and 'real' backgrounds. There's hardly a studio shot in sight. A weakness is that the situations slightly feel like that they're manufactured, or dreamt up, simply to link the songs which were pre-written. And 500 Miles is such a brilliant song, it shows the relative weakness of the other tunes.

The musical scenes are well staged, and well sung, and the actors work hard to look like they mean it, and when needed, show that they are really enjoying themselves. That, of course, is infectious. That's also the job when you're in a show and these guys know the job. The Edinburgh they show here is a bit of a tourist view of Edinburgh. But that's how it has to be here, even in a realist musical.

I'm guessing quite a lot of people will go for it. The rather depressing, downbeat storylines are in keeping with the Hard Times we find ourselves in. They're realist stories and themes, filmed realistically and atmospherically on Edinburgh locations, but played in a fanciful, playful fashion.
It reminded me of Sweeney Todd. The advertising was careful not to show any singing and so some audiences were a bit fazed when Johnny Depp started to sing as he shaved necks and cut throats. They were trying to appeal to people who don't normally like musicals and I think Sunshine on Leith will appeal to people who don't normally like musicals.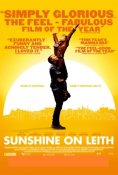 It's not easy to film a musical at all, and hard to turn a stage show into a real film, but Fletcher has succeeded. He couldn't really have done a better job with it. It's a quality item. Whether you'll like it or not, that's entirely a matter of taste. It's up to you.
Personally, I'd have preferred the hard-man movie set in Edinburgh's dock area I was expecting. But I guess that can wait till Fletcher's next film.
The Proclaimers walk on at the start of the movie in a blink-and-you'll-miss-it moment.
© Derek Winnert 2013 Movie Review
Check out more reviews on http://derekwinnert